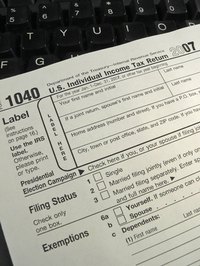 Unlike other individual tax credits, the Earned Income Tax Credit is refundable, meaning the Internal Revenue Service will refund the difference if the credit exceeds the taxpayer's tax liability. The IRS publishes tables every year to assist taxpayers in determining the proper amount of credit allowed. The income, marital status and number of qualifying children a taxpayer has are the deciding factors in the final amount of credit received.
Birth of the Earned Income Tax Credit
Originally enacted in 1975, the Earned Income Tax Credit was borne out of welfare reform efforts of the early 1970s. The Tax Reduction Act of 1975 originally added the credit to the Internal Revenue Code. After expanding during the years, the credit is now one of the principal anti-poverty programs for working families in the federal budget.
Purpose of the Earned Income Tax Credit
The EITC was intended to offset Social Security taxes of low-income families and provide them with an increased incentive to work. Eligible taxpayers could claim refundable credits equal to 10 percent of their earned income for the taxable year, up to a predetermined dollar amount. The original EITC was enacted and available to taxpayers only for the calendar year of 1975.
Tax Credit Made Permanent
Subsequent revenue acts extended the credit until 1978, when it became a permanent part of the Internal Revenue Code. The maximum amount of EITC increased with the Deficit Reduction Act of 1984, when it was renumbered as U.S. Code, Title 26, Section 32 in the Internal Revenue Code. The credit expanded greatly with the Tax Reform Act of 1986. Since 1987, the EITC has been indexed for inflation.
Tax Credit Expansions
Another substantial expansion of the credit came with the Omnibus Budget Reconciliation Act of 1990, adding supplemental credit amounts for families with two or more children. This act was expanded even further to make available small credits for certain childless workers. The Taxpayer Relief Act of 1997 included provisions to improve compliance. In 2001 the Economic Growth and Tax Relief and Reconciliation Act promoted simplification and provided new marriage penalty relief.
State Earned Income Tax Credit
According to the Internal Revenue Services, if you qualify to claim EITC on your federal income tax return, you might be eligible for a similar credit on your state or local income tax return. As of the 2009 tax year, 22 states, the District of Columbia, New York City and Montgomery County, Maryland, offer their residents an earned income tax credit.