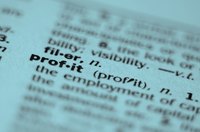 Organizations are broadly classified as either for-profit or not-for-profit (NPO). Business corporations are generally organized for-profit, while not-for-profit encompasses charities, churches, foundations, trusts, cooperatives and corporations. As of May 2010, 1.6 million not-for-profit entities were registered in the United States.
Profit and not-for-profit entities share some characteristics in organizational structure but differ primarily in purpose.
Net Income
The primary difference between for-profit and NPO is the distribution of the net income earned. For-profit businesses are organized to earn a profit which will generally be distributed to owners/shareholders as dividends. In not-for-profit organizations, any net income is used to support the programs of the organization and further its stated purpose.
As an extension, the purpose of each differs from the other. Not-for-profits are established to accomplish goals of public and private interest for which there is no commercial or monetary gain desired. For-profits are organized, just as the name suggests, for the purpose of making a profit for the owner.
Structure
In organizational structure, both types of entities may be similar. For-profit businesses are generally run by a board of directors who answer to shareholders, the owners of the business. Certain business structures are exceptions, such as sole proprietorships and partnerships.
NPOs are usually governed by a board of directors, who may be elected by the membership of an organization or self-elected, in the case of board-only NPOs.
The board of directors has a fiduciary responsibility to the membership or shareholders.
Ownership
Ownership is a key difference between for-profit businesses and NPOs. NPOs are not owned in the same sense that a shareholder or small business owner owns his for-profit. Generally, no one owns an NPO.
However, an NPO can own property, cash, equipment and even investments. Such items among the assets of a for-profit organization actually belong to the individual owners or shareholders of the company.
Revenue
For-profit businesses create revenue through several avenues, including sales and services provided, sales of stock and borrowing. NPOs are often more limited in raising revenue for the organization and may, by law, be restricted in the amount and method of generating revenue.
NPOs rely heavily upon donations. Revenues also generally come from grants, and in the form of program service fees and earned income through sales or services provided. NPOs may borrow money when warranted.
For-profits have customers, while NPOs have members, students or participants.
Taxes
Most NPOs apply to the Internal Revenue Service for tax exempt status, though it is not an inherent characteristic. The IRS will verify that the organization's purpose meets tax exemption standards. Once granted tax exemption, NPOs must file yearly returns or notices with the IRS. Failing to do so can cost the organization its tax exempt status. NPOs with IRS tax exemption must make their financial records available to the public.
For-profit businesses must pay income taxes on their net income and are required to file returns every year. For-profits are generally protected from making their financial information public.