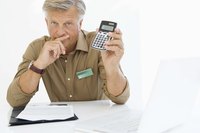 An important part of accounting is tracking the information recorded on a company's balance sheet. Over the past several years, accounting has transformed from creating simple measurements of the company's net income to determining the amount of wealth created by the assets and liabilities listed on a company's balance sheet. The valuation of balance sheet items is an integral part of determining the company's overall wealth.
Facts
Goodwill is an intangible asset that usually occurs when a company buys another business. When companies purchase a business, they usually pay for the actual costs of all assets and liabilities listed on the selling company's balance sheet. Any amount given to the selling company above the value of balance sheet items represents goodwill. Companies may also purchase other businesses by paying a fixed dollar amount equal to the company's retained earnings or previous accounting net income amounts, which does not usually include goodwill amounts.
Calculating
Goodwill offer relates to the intangible assets, such as brand name recognition, loyal clientele and established relationships with the vendors or suppliers supplying business inputs for producing the company's goods or services. Goodwill may be difficult to calculate due to the intangible nature of its value. Companies may be able to determine the value of goodwill by reviewing competing businesses in the industry to determine the importance of a strong brand name or good customer relations.
Adjustments
Changes to accounting principles in 2001 changed how companies were to account for goodwill on their balance sheets. Prior to 2001, companies were to amortize a portion of goodwill every year according to national accounting standards. The accounting rule changes imposed in 2001 ensure that companies review goodwill each year to determine if any impairment has occurred. Impairment occurs when the original amount of goodwill is higher than the true value of the company's brand name recognition and clientele base. If impairment has indeed occurred, accountants must determine the impairment amount and write it off against net income during the applicable accounting period.
Significance
The changes to goodwill accounting occurred after the economic recessionary period of 2001. Companies began experiencing over-inflated balance sheet assets when they began purchasing companies overvalued during the tech stock bubble. Overvalued technology companies increased the amount of goodwill on the buying company's balance sheet. Rather than allowing companies to retain this asset on their balance sheet and reduce the goodwill through amortized deductions over a lengthy period of time, accounting rules were adjusted so the impairment method would value goodwill according to its true market value.
Expert Insight
Valuing the impairment charge from goodwill can be difficult due to the subjective valuation process for intangible assets. Companies may use professional accounting services from a public accounting firm or certified public accountants (CPA) to help them determine the goodwill impairment for their company. Because professional accountants are often educated in current accounting policies and regulations their experience helps them understand how to value intangible assets and write off impairment amounts to accurately report the value of goodwill.