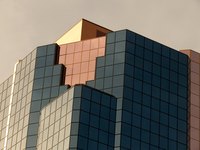 One of the most important decisions when starting a new business is choosing a legal business entity. A business entity determines the company's tax responsibilities and the liability of the partners involved in legal and other matters. The most common business entities are sole proprietorship, corporation and partnership. LLC, the limited liability company, is one of the first choices for business service professionals and partners who want to avoid the incorporation process.
Definition
A limited liability company blends elements of corporate structures and partnership business entities. Internal Revenue Service rules state "owners have limited personal liability for the debts and actions of the LLC. Other features of LLCs are more like a partnership, providing management flexibility and the benefit of pass-through taxation." That means that the profits earned and losses endured "pass through" to members of the LLC and can be filed on their tax returns. Each owner is called a member in an LLC.
Forming a LLC
Each state has jurisdiction over setting its own rules for forming an LLC. However, all states require LLC members to file articles of organization. A Wall Street Journal article describes articles of organization as "a short form that asks for the names of the LLC and its members and their contact information. The filing fee can range from $30 to $200." These must be filed with the secretary of state's office.
Advantages
LLC members often pay less in taxes because they are not incurring tax charges for the business and on their personal income from the business. In case of lawsuit or debts, LLC members, in most cases, are not held personally responsible for current and future judgments. David Meier, in an Entrepreneur Magazine article, noted that LLC members also enjoy the benefit of owning a business as a nonresident and can list as many as 75 business owners. Similar to a corporation, the business is treated as a separate entity from its owners.
Disadvantages
Some states charge annual fees that can offset the tax benefits of registering as an LLC. If an LLC is formed with only one member, that member may also incur self-employment tax, which can be more than 15 percent of his income. Because regulations vary by state, members with businesses in multiple states may have some inconsistencies in the way they have to operate their businesses to adhere to each state's laws of operation. Also, banks may require members of newly formed LLCs to personally guarantee loans for the business.
Misconceptions
The federal government doesn't recognize an LLC as a classification for federal tax purposes as detailed by the IRS, but some states—such as Maryland—do. The IRS reports that a common misconception is that all losses can be used as deductions. In actuality, there is a limit to the losses that can be deducted because the members have limited liability. Although it's common to see an accounting or legal service with LLC in the title, attorney Anthony Mancuso, writes, "Some states prohibit special licensed professionals such as doctors, lawyers and accountants from forming LLCs." He also says that LLCs can't shield members for debt they are personally liable for.