Americans eat about 3 pounds of peanut butter per person per year, according to the National Peanut Board. For a healthy snack, eat a serving, or 2 tablespoons, of peanut butter with an apple. This pairing will provide a filling mix of protein and fiber along with a number of essential vitamins and minerals.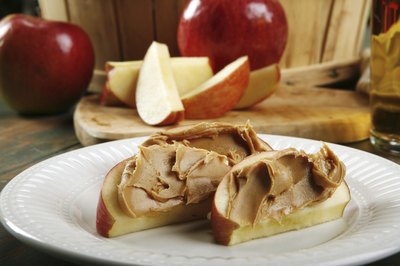 Calories, Carbs, Protein and Fat
A medium apple with the skin and 2 tablespoons of smooth peanut butter contains about 286 calories and provides about 8 grams of protein, 32 grams of carbohydrates and 17 grams of fat. Although this may sound like a lot of fat, most of it is the healthy unsaturated type, with only about 3 grams coming from unhealthy saturated fats. This snack also provides 6 grams of fiber, or about 24 percent of the daily value. Fiber may help prevent cancer, constipation and high cholesterol and makes it easier to control your blood sugar and weight.
If you'd like a snack with fewer calories and less fat, cut the amount of peanut butter in half. This reduces the calories by a third and the fat by half, while still providing 4 grams of protein and 21 percent of your daily value for fiber.
Vitamins and Minerals
Each apple with peanut butter provides more than 10 percent of the DV for magnesium, phosphorus, potassium and vitamins B-6, C and E. It also has more than 20 percent of the DV for niacin and 30 percent of the DV for manganese.
Niacin and vitamin B-6 help turn your food into energy and keep your eyes and skin healthy. Manganese and vitamins C and E act as antioxidants to limit damage to your cells from harmful substances called free radicals. You need magnesium and phosphorus for creating DNA, and potassium is important for maintaining healthy blood pressure levels.
Potential Health Benefits
Both apples and peanut butter have potential health benefits. The beneficial plant chemicals, called phytochemicals, found in apples may help lower your risk for heart disease, diabetes, cancer, asthma and high cholesterol, according to a review article published in Nutrition Journal in 2004. The amount of these chemicals varies by type of apple, with some types, such as Red Delicious, having up to six times as many phytochemicals as others, including Empire, according to a study published in the Journal of Agricultural and Food Chemistry in 2005. Most of these phytochemicals are found in the skin, but some apples, including Northern Spy, Cortland and Red Delicious, contain significant amounts of these chemicals in their flesh as well.
A review article published in Nutrients in June 2010 notes that peanuts and other nuts may help lower your risk for high blood pressure, inflammation, gallstones, high cholesterol, heart disease and cancer.
Other Considerations
For the most health and nutrition benefits, opt for natural peanut butters without added salt. Most Americans already get too much salt in their diet, which can increase the risk of high blood pressure. Although it may sound like it would be healthier, avoid the reduced-fat peanut butters, as these have almost as many calories as regular peanut butter but contain a lot more sugar and starchy fillers, according to registered dietitian Lisa D'Agrosa in an article published on the Eating Well magazine website in August 2014.
If you have a peanut allergy, you can make a similar healthy snack using almond or cashew butter if you aren't allergic to tree nuts. You can also use sunflower seed butter or soy nut butter if you can't tolerate any type of nuts.