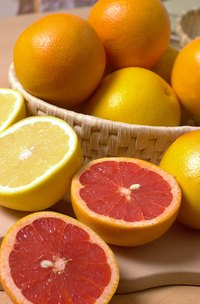 Ascorbic acid is another name for vitamin C. Normally the body obtains enough vitamin C through a proper diet, but occasionally there exists a need for vitamin C supplementation. Ascorbic acid comes in a variety of forms for oral dosing including tablets, capsules, lozenges, syrups and powders. The powdered form of ascorbic acid can be mixed in a solution and allows for easy administration.
Vitamin C
The body uses vitamin C for wound heading. It is also an essential nutrient for many bodily functions including processing of carbohydrates, fats and proteins. It aids the body in forming blood vessels, collagen, cartilage and muscle. Lack of vitamin C causes a condition called scurvy in addition to slowing wound healing.
Vitamin C is found naturally in fruits and vegetables. Citrus fruits have high concentrations of ascorbic acid, as do green vegetables, tomatoes and potatoes. To obtain maximum levels of ascorbic acid, the food should be eaten fresh and unprocessed. Cooking, drying and exposing the foods to air can all reduce the amount of vitamin C present.
Applications
Ascorbic acid powder can be mixed with water into a solution for drinking. It can also be sprinkled over food and eaten. Ascorbic acid in powdered form is an effective oral dosage option for those who cannot swallow pills.
Ascorbic acid powder is also used to prepare fruits for freezing. Sprinkle it on fruits or mix in a solution with water and apply to fruits prior to freezing. This application prevents the fruit from the browning discoloration caused by oxidation.
Supplement Dosing
The U.S. Food and Nutrition Board of the institute of Medicine recommend that men over age 18 obtain 90 mg of vitamin C per day. Women over 18 are recommended to get 75 mg per day. For adults, the maximum amount of vitamin C taken in one day should not exceed 2,000 mg. Lower amounts are recommended for children and are based specifically on age.
Who Can Benefit
Certain diseases increase the body's need for vitamin C. These diseases include AIDS, alcoholism, cancer, hyperthyroidism and intestinal diseases. Prolonged diarrhea, fevers and infections as well as burns and stress can also increase vitamin C needs.
Other conditions are capable of causing a deficiency of vitamin C within the body. This commonly occurs in smokers, surgery patients, hemodialysis patients and people exposed to cold temperature for long periods of time.
Side Effects
Ascorbic acid is not toxic at high levels and rarely causes serious side effects. At high doses, the most common side effects are gastrointestinal troubles including diarrhea, nausea and cramping.