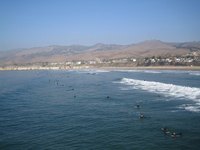 Pismo Beach is located on California's Central Coast and is located along Pacific Coast Highway 1 between San Francisco and Los Angeles. The Highway 1 stretch is located along the beach, providing ocean views for car travelers. The city has a population of approximately 8,551 people and boasts several retail stores, art galleries and lodging. Lodging options include hotels, camp sites and RV-hookup spaces.
Planning
One of the major attractions of camping the Central Coast and Pismo Beach is the weather. The area's average temperatures and precipitation are stable and are easily adaptable for tent and RV campers. The average summer high temperatures peak at around 75 degrees, while the daily summer lows are around 55 degrees. Winter highs peak at approximately 65 degrees and lows are around 43 degrees on average. The area receives the bulk of its precipitation in the form of rain from late September through April, making the late spring, summer and early fall months the best choices for camping in Pismo Beach.
Tents
A waterproof two- or three-season tent is the best choice when tent camping in Pismo Beach. Dressing in layers is a good idea as the temperatures often fluctuate. Tent camping is available at two facilities along Pismo Beach: Oceano Campground and Pismo State Beach North Campground. Both campgrounds are overseen by California State Parks Association. Reservations can be made online for tent camping spaces, and the campground offers access to hot showers, restroom facilities and wireless Internet access. Pismo State Beach North Campground does not take reservations during the the spring, so during that time camping is first come first serve. During other months, reservations may be made online. The campground offers a small tent camping facility with showers, restrooms and Internet access.
RVs
RV camping is also available at Oceano Campground, though electricity, water and sewer hookups are not available. Holiday RV Park is located just two blocks from the beach and offers 195 full hook-up RV sites, a heated swimming pool, picnic area, free cable, ice and wireless Internet access. Pismo Coast Village RV Resort is located along the coast, near sand dunes and has beach access points throughout the facility. The resort features full hookups including waste, water and electricity, high-speed Internet and cable.
Activities
Pismo Beach offers activities for families, couples and individual campers. Available activities include guided nature tours through ancient Chumash Indian sites, tours through the historical Hearst Castle in nearby San Simeon, Calif., along with ocean activities such as sea kayaking, surfing and fishing. Shopping and sightseeing opportunities are available within the city, located just a few blocks from beach camping locations. During summer months, the city hosts several festivals and events including car shows, concerts and the annual St. Anthony's Celebration that celebrates the cultural significance of the area's Portuguese roots.
Wildlife
The city is known for its abundance of Pismo clams on the coastline, and digging for clams is permitted year-round with a valid saltwater fishing license. Wildlife enthusiasts enjoy the populations of animals that visit Pismo Beach including whales, elephant seals, otters and cranes.