You need a photo ID to travel on an airline within the United States and to and from the United States if you are 18 years of age or older. The Transportation Security Administration (TSA) sets the requirements and accepts a variety of forms of identification. Children under 18 traveling with an adult do not require a photo ID, but they may need a birth certificate or passport.
Domestic Travel
For travel within the United States, you must show a U.S. federal- or state-issued photo ID that includes your name, date of birth, gender and expiration date. TSA requires this to be a tamper-resistant document consisting of a transparent foil marking with front and back gelatin layers. Hold your driver's license at an angle to see the marking for an example of a tamper-proof plastic card.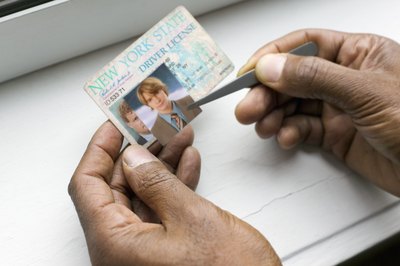 Driver's License
State-issued driver's licenses are the most commonly used forms of identification for most travelers. All U.S. states comply with the rigorous TSA requirements. If you are under 15, you can get a state-issued photo ID card to use when flying; apply at the driver's license bureau for a photo ID.
Passport
U.S. citizens need a passport to reenter the U.S. You can use a passport for your photo ID for domestic air travel, it is required for international travel. Your passport must be valid for six months past your dates of travel. Allow six weeks for a new or renewed passport application. You also need a passport when you are entering the United States by air from Canada or Mexico.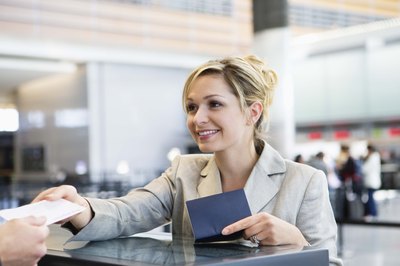 Passport Card
A new innovation by the State Department is the passport card, a credit-card-size photo ID, good for land and sea travel from Canada, Mexico, Bermuda and the Caribbean. It is not valid for international air travel, but it can be used as ID on domestic flights. It is less expensive and less bulky than a passport book.
Other Forms of Acceptable Photo IDs
U.S. military IDs are valid for active, retired military and their dependents, as well as Department of Defense civilian employees. A permanent resident card, border crossing card, Native American Tribal photo ID and foreign government-issued passports are acceptable for airline travel. Department of Homeland Security "Trusted Traveler" cards such as NEXUS, SENTRI and FAST, are valid for air travel. An airport or airline photo ID might be valid if it complies with TSA's security measures. Three other valid forms of ID include a Canadian driver's license, Indian and Northern Affairs Canada (INAC) photo ID, and Transportation Worker Identification Credential (TWIC).
Children Under 18 Years of Age
Children traveling with adults on domestic flights do not need a photo ID, but the airline might require a birth certificate to prove the child's age; check with your airline. Children traveling alone will not need a photo ID, but the adults dropping off an picking up the child must have a photo ID. Children traveling abroad must have a valid passport.