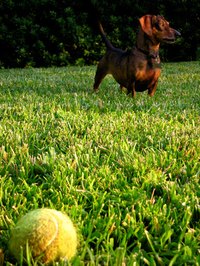 Careless breeding of pets, also called over breeding, can cause a number of health defects in the population. Animals may be bred primarily to match a show standard, or to produce large numbers of a popular type for the pet trade. Careless breeding can encourage the proliferation of major health problems, and may weaken the animal breed overall.
Significance
According to K9 Magazine, today's purebred dogs have over 500 different health defects, including heart problems, disorders of the blood, respiratory problems and skeletal system defects. These health defects can reduce the lifespan and quality of life for dogs and cats. Unfortunately, many breed standards encourage careless breeding. The Guardian, a major UK newspaper, reports that even some prize-winning animals have major genetic defects.
Types
Defects are usually breed specific, and are often caused by inbreeding for other traits. For instance, a number of dog breeds, like cocker spaniels and Labrador retrievers, are subject to hip dysplasia, a malformation of the hip joint. Merle collies, dappled dachshunds, piebald greyhounds, and many other dappled or spotted animals are subject to genetic deafness. Some breeds are also subject to heart conditions, digestive problems, and respiratory issues. Flat-faced cat and dog breeds, such as Persians and bulldogs, may have sinus and eye problems.
Considerations
Anyone interested in breeding a dog or cat should have detailed health information on the animal and the animal's lineage. Breeding without this information, even from an apparently healthy animal, may result in congenital defects that don't appear until much later. Avoid breeding if there is any question about the animal's genetics and health.
Warning
Young animals may not show genetic defects immediately, but can develop them later in life. Conditions like progressive retinal atrophy and retinal dysplasia may lead to total blindness as the animal ages. Hip and elbow dysplasia, patellar luxation (sliding kneecaps) and elbow joint deterioration may cause arthritis and lameness in the long term. Choose dogs and cats with well documented family histories to avoid these problems.
Potential
While dogs and cats have historically been bred for work or for an unusual appearance, more breeders are becoming aware of the potential health problems that come with over breeding. These breeders take more care in choosing animals to breed. Reducing the incidence of inbreeding and using genetic testing to identify bad genes could help produce healthier purebred animals in the future.