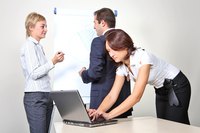 The human resources department of a given organization usually works behind the scenes, coordinating hiring and training, helping current employees and working with those transitioning out of the company for any given reason. However, simply because human resources does not often appear in the limelight does not mean it is not important for a business's success. Quite the contrary, human resources mobilizes and sustains its most valuable resource: people.
Staffing
Human resources has five main functions, all of which are crucial to a company's success. The first is staffing. R. Wayne Mondy, in his 2008 text, "Human Resource Management," defines staffing as the process through which an organization ensures that it always has enough employees placed in the right positions at the right time to optimize success and achieve objectives. Human resources is, of course, on the front lines of recruiting and grooming top talent, as well as advising on promotions.
Compensation
Human resources oversees compensation, another key factor in a company's ability to attract and retain top talent. Compensation should make employees feel valued and motivate them to work toward goals, while rewarding them for their ongoing contributions. Compensation need not always be direct or monetary. It can also include vacation, flexible schedules, fringe benefits, insurance and a positive working environment. Without a competitive compensation offering, businesses will lose their best workers and fall behind their rivals.
Safety and Health
Human resources is in charge of safety (avoiding employee injury) and health (promoting overall physical and mental well-being). Healthy employees have been shown to work better and more effectively for employers. In addition, improving health and safety can eliminate the risk of lawsuits as well as reduce a company's medical insurance burden.
Employee and Labor Relations
Unions are not as powerful as they were in the past, but companies are legally obligated to recognize unions and bargain with them in good faith. Human resources often handles such "industrial relations," which includes collective bargaining. Naturally, a company that can work smoothly with its union and persuade its employees that it is willing to compromise will have a more satisfied, productive workforce.
Human Resource Development
Human resources not only hires new employees, but also coordinates training, so existing workers can learn new skills and use their talents to increase productivity. By providing long-term career paths, human resources also ensures employees stay with a company, avoiding costly turnover and poaching by rivals. This process of employee training, continuing education and development is collectively known as human resource development. It keeps a company's workforce satisfied and up-to-date, another pillar of business success.