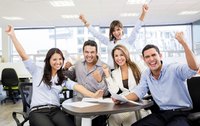 A major reason for employee turnover is a lack of job satisfaction. Repetitive tasks that fail to challenge workers, as well as a very narrow focus on a small portion of a far larger process, are often the culprits. Job enrichment is a method to overcome such sources of employee dissatisfaction. This can be achieved by providing more training, more responsibility and a wider variety of duties for employees.
Benefits and Implementation
Adding similar tasks to an employee's responsibility is considered vertical job enlargement. This kind of enlargement, however, rarely makes the job richer, as in more engaging, challenging or interesting. Job enrichment, on the other hand, involves adding different tasks that usually involve upstream and downstream duties in the added-value chain. For example, a welder's job may be enriched by asking him to polish and paint a part that he previously only welded. This helps individuals develop new skills, makes them feel that they play a more critical role in the process and provides new opportunities for advancements and promotions.