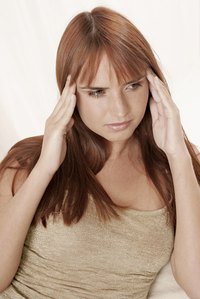 Migraines are chronic headaches that can last from a few hours to a few days. They are sometimes accompanied by a visual aura of flashing lights, wavy lines or blind spots. Migraines often include a range of neurologic symptoms such as numbness, confusion and extreme sensitivity to light and sound. According to researchers at Dalhousie University, red ear syndrome is a rare condition characterized by pain or a burning sensation in the ear, occurring spontaneously or as a result of a variety of stimuli. Red ear syndrome is often accompanied by migraines.
History
Red ear syndrome has likely existed for some time but was first entered into the medical record in 1994 by Australian neurologist J.W. Lance. Its association with migraine has been the subject of some recent study but is not yet understood.
Symptoms
According to the National Institute of Neurological Disorders and Stroke, symptoms of migraine include moderate to severe pain, often on just one side of the head; pain that increases with physical activity; nausea; visual aura; and sensitivity to light and sound. Symptoms of red ear syndrome include redness and pain or burning in the ear.
Associations
Research by doctors R. Allan Purdy and David W. Dodick for the journal "Current Pain and Headache Reports" found red ear syndrome to be associated with a range of disorders including: upper cervical arachnoiditis, cervical root traction, cervical facet joint spondylosis, glossopharyngeal and trigeminal neuralgia, temporomandibular joint (TMJ) dysfunction, thalamic syndrome and migraine.
Causes
Red ear syndrome can be triggered by a variety of stimuli including touch, exertion, temperature changes, neck movements, brushing hair, eating and drinking. It is unclear if migraine is a cause or a result of red ear syndrome.
Considerations
According to a study of eight idiopathic cases of red ear syndrome and migraine by the Child Headache Center's Division of Child Neuropsychiatry, "the close temporal relationship between the 'red ear episodes' and migraine attacks suggests an association between the two conditions."