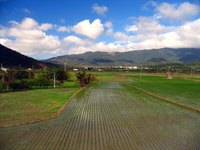 Potassium nitrate, commonly known as niter or saltpeter, is a chemical compound used as a fertilizer, food preservative and in the production of explosives. Potassium nitrate is a naturally occurring compound made of three basic elements—potassium, nitrogen and oxygen. It is a whitish compound and is found as a thin crust on rocks or in caves and in soils rich in organic matter. In the United States, the brine lakes of California are the primary supplier of niter.
Potassium Fertilizer
Potassium nitrate has 44 percent K2O, which is also known as the nitrate of potash. It has a low salt index and is useful for high-value crops such as celery, tomatoes, potatoes, fruit crops and leafy vegetables.
Properties of Potassium Fertilizer
Most of the potassium fertilizers are highly soluble in water and are held in the soil by clay and other organic matter. Leaching of potassium is not generally a problem. Potassium is not converted to a mobile form by its interaction with water and, therefore, remains close to the initial point of its application.
Nitrate Fertilizer
Potassium nitrate has 13 percent nitrogen and can therefore be considered a nitrate fertilizer as well. All the nitrogen content in niter is in the nitrate form. So, when it is added to soil, it is subjected to denitrification. Nitrate fertilizer is mostly used as fertilizer for fruits and vegetables.
Uses
Potassium fertilizers help the growth of garden flowers and vegetables with minimum problems from pests. It also promotes fruit growth. Potassium fertilizer also helps plants to develop a robust root system, which aids the plants in withstanding drought. The overall health of the plant also increases; thus, the fertilizer helps in improving the resistance of the plants to any form of pests or diseases. Potassium content of the fertilizer helps in maintaining the osmotic pressure and cell size in the plant, encouraging photosynthesis and energy production. If the potassium is low, the plants have a tendency for restricted growth, to produce lower yields and for reduced flowering.
Disadvantages
Even though there are many uses for potassium fertilizer, the latest studies state that the continual use of chemical fertilizers brings more harm than good to the plant. As far as potassium nitrate is concerned, sometimes the crop plants won't use all the nitrogen applied to it, which leads to leaching into ground water. Some of this nitrogen can also get washed off to the fields and consequently into streams and rivers. Also, the soil itself has enough nitrogen-fixing bacteria. But, if the fertilizer is continuously fed to the soil, then it may destroy these bacteria. This can adversely affect plant health.