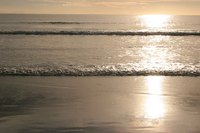 Tidal power is produced from the rise and fall of sea level. Gravitational force between the sun and moon as well as the rotation of the Earth around the sun cause oceanic tides. Tide cycles are predictable, as it happens every 12 1/2 hours, twice a day. Thus, tidal power is a potent source for renewable energy, since it has a good potential for use in the generation of electricity.
Tidal Production
Tidal waves can reach as high as 40 feet near the some shores. At least a 10-foot tidal wave is required to produce tidal energy efficiently. The three common principles used to tap tidal power are wave energy, tidal energy and ocean thermal energy.
Wave Energy
The moving waves in the ocean possess kinetic energy, which is used to power a turbine. Most of these wave-energy systems are relatively small and are used mainly to produce power for a small lighthouse or to power a warning buoy.
Tidal Energy
The tide which forms at the shore is trapped in big reservoirs behind dams. When the tide falls, the water is released, similar to a hydroelectric power plant. This is the principle used in tidal barrages.
Ocean Thermal Energy
Ocean thermal energy uses the difference in temperatures in the ocean. The surface of the ocean is warmer compared to deep below the surface because of the sunlight which strikes the surface. If there is a difference of at least 38 degrees Fahrenheit, this difference can be used to produce energy. This energy is called ocean thermal energy conversion.
Tidal Barrages
A tidal barrage is actually a dam built across an inlet. This system uses the principle of tidal energy to produce electric power. There are also two-way systems available which generate electricity from both the ebbs and flows of the tides. Currently, there are two commercial barrages in the world--one in France, the other in Canada. The disadvantage of tidal energy is the adverse effect that the station might have on plants and animals in the estuaries.
Tidal Fences
A tidal fence consists of a vertical axis turbine which is kept in a fence in such areas like channels between two landmasses. The water passing through the fence is directed through turbines, thereby producing electric power. This method is less expensive than tidal barrages, and the harm caused to the environment is considered less.
Tidal Turbines
Tidal turbines are actually wind turbines located in the water, where there is a strong tidal flow. Since the density of water is much higher than that of air, these turbines are more powerful than wind turbines. This process is more expensive, but more energy is produced.