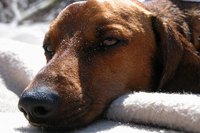 While people tend to associate allergies with the coming of spring, some dogs experience allergic-type reactions in the fall and winter. Dogs can be hypersensitive to changes in temperature and mold build up inside a house. These changes can cause reactions or trigger dormant issues within a dog's system, causing allergic symptoms. Winter allergies in dogs are manifested in several different ways. The most common symptom of winter allergies is dry skin, which can become flaky and discolored and cause discomfort to the dog.
Causes
There are several causes of canine winter allergies. According to the website Precious Pets, temperature changes in mid-fall and winter cause canine skin to become more sensitive. The website Allergic Pet states that dogs can be sensitive to mold buildup in houses as well, which can cause them to itch. Jan Bowers, an animal and human holistic health care specialist, says that many dog allergies are caused by nutritional deficiencies, which are exacerbated by compromising weather conditions of winter.
Facial Symptoms
Dogs experiencing allergies may fall victim to conjunctivitis. According to Dr. Carole Osborne of the website Carol On Pets, symptoms of conjunctivitis include red, swollen eyes and mucous-like discharge from the eyes. Dogs further irritate their symptoms by pawing at and rubbing their eyes.
Full Body Symptoms
Skin conditions can run rampant during the winter season, with a dog's skin becoming red, itchy, flaky and sometimes scaly. Dogs will itch and lick themselves incessantly when they feel the discomfort of their skin condition, which can cause bald spots to develop in the fur throughout the body. Allergies can also cause a dog's paws to swell. According to Lowchens Australia, dogs "will lick and bite and chew at their feet, sometimes for hours at time. The pads can get wet, sore, and raw, causing cracks to form."
Treatment
Biotin, one of the B vitamins, is often used to treat dogs with allergies. The website Pet Education states, "several studies have shown that dogs suffering from dry skin, seborrhea, and dry, itchy allergic skin greatly improved when supplemented daily with biotin." Dogs with allergies should be bathed and brushed on a schedule that can be recommended by a veterinarian. Moisturizing shampoo specifically for dogs is available to treat skin conditions that come with winter allergies. According to Jan Bowers, marigold and echinacea are both good treatments for canine skin conditions. She also suggests "a blend of black walnut hull, cayenne, marshmallow root, skullcap, white oak bark, Indian tobacco, and gravelroot, [which] strengthens the immune system, reduces inflammation, prevents fleas, ticks, and other bugs."
Prevention
Winter allergies in dogs can be difficult to avoid altogether. However, controlling the amount of mold in your house can significantly help your dog's allergies. As Allergic Pet reports, humidity in the house should be kept low, which can be done by running your air conditioning. Additionally, you should fix any leaks that might be causing moisture buildup, use exhaust fans after you shower and cook, and remove mold wherever you find it.