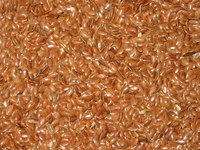 As a rich source of omega-3 fatty acids and fiber, flaxseed is a healthy addition to a balanced diet. There are two different types of flaxseed: regular brown flaxseed and golden flaxseed. Nutritionally they are almost identical, but golden flaxseed has a nuttier flavor and a light yellow color that makes it easier to use in foods.
History
According to the University of Maryland Medical Center, flaxseed comes from the flax plant, which originated in Egypt. In addition to using it for food, the Egyptians made clothes and fishnets out of the plant. Today, it is used in industrial production. In 1990, North Dakota State University developed a new strain of flaxseed specifically for human consumption. This new strain, also called 'Omega' flax, is golden.
Nutrition
The nutritional content of regular and golden flaxseed is very similar. Because golden flax was developed specifically for human consumption, it has a higher level of Omega-3 fatty acids and more soluble fiber. Both types of flax also contain chemicals called lignans, a type of phytoestrogen, or "plant" estrogen. Flaxseeds are also a good source of folate, magnesium, phosphorous and manganese. According to NutritionData.com, 1 tablespoon of whole flaxseed has 55 calories and 2 grams of protein.
Appearance
Regular flaxseed is a deep brown color while golden flaxseed is, as the name implies, a lighter yellow. The light color of golden flaxseed makes it easier to mix into smoothies, sprinkle onto salads or bake into muffins. It blends right in and is almost unnoticeable.
Geography
Regular flax is grown all over the world, but Canada is the biggest exporter. North Dakota is the biggest producer of golden flax. In a paper entitled "Flax: New Uses and Demands," Duane R. Berglund says that golden flaxseed is preferred over regular flaxseed in Europe and is also sold in the United States, Japan and Korea.
Uses
Golden flaxseed was engineered specifically for use as food. It has a nuttier flavor and the lighter color makes it easier to blend into food. It is also easier to grind down for use in baking products. Regular flaxseed can be used for its nutritional benefits, but it is also used for industrial purposes like the production of linseed oil, linoleum and paints. Certain variations of regular flax are bred for their high fiber content and are used to make paper and linen. The byproduct of these industrial processes is used as animal feed.