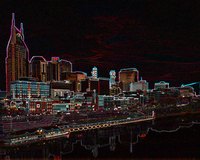 The Graceland experience is a one-of-a-kind slice of pure Americana. This is the place the King, Elvis Presley, called home for the second half of his life -- a tour is a must when visiting Memphis. If you're in Nashville, 200 miles away, a tour is still possible. Day trips to Memphis are provided by one company in Nashville, allowing tourists the opportunity to spend a day touring Graceland and other famous sites in Memphis. These day trips are self-guided tours, so guests are free to explore the city on their own.
How Sweet It Is
Sweet Magnolia Tours is a company based in Nashville that takes visitors on day trips to Memphis to visit Graceland and other sites. Guests take a Greyhound bus from Nashville to Memphis for the Graceland tour. The company was established in 1991 in Nashville, Tennessee.
Booking Info
Sweet Magnolia Tours recommends booking your Graceland tour at least seven days in advance. An additional fee is required for any Graceland tours booked less than seven days prior to departure. Discounted tour prices are available for parties of two or more.
Tour Info
Each tour includes round-trip transportation from Nashville to Memphis. Guests receive a cab ride from the bus station to Graceland, and from Graceland to Beale Street. Your Graceland Platinum Admission ticket guarantees admission into everything at Graceland. The tour also comes with a Sweet Magnolia Bucks certificate to use at B.B. King's Blues Club, Alfred's on Beale, Red Rooster Bar and Music Hall, or the Superior Bar of Memphis.
When To Go
Sweet Magnolia Tours offers two tours per day from Nashville to Memphis. The first tour of the day departs Nashville at 6:45 a.m., with a 7:30 p.m. return from Memphis. The second tour leaves Nashville at 10:35 a.m. and departs Memphis at 11:30 p.m.
VIP Upgrades
Sweet Magnolia Tours offers an optional upgrade to a Graceland VIP ticket for an additional fee per person. The VIP package includes a VIPs-only exhibit, and tours of Elvis' auto museum, two airplanes and Private Presley. Guests receive an all-day ticket and a backstage-pass keepsake.