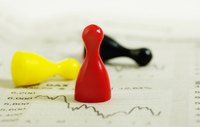 There is no way to avoid the fact that investing in a company is a risky proposition. However, investors can greatly reduce the chance that they will incur losses if they fully understand the investments they choose and risks they are taking. To do so, an investor should fully understand the meaning of business risk and operating leverage, and how the two interact.
Business Risk Definition
According to the Forbes publication Investopedia, business risk is the risk that a company will not have enough cash on hand to pay its bills, also known as operating expenses. (first reference)
Reasons for Business Risk
There are many reasons that a company may not be able to pay its bills. If it has too much debt it may have to pay its bondholders before meeting the demands of other creditors. If it overspends and its earnings drop, it may not be able to meet its obligations. If it makes a number of risky investments, or a new product fails, it could lose a large amount of capital, leaving it without the funds to continue operating. In extreme cases, this can lead to bankruptcy.
Operating Leverage Definition
Operating leverage measures the degree of fixed and variable costs within a company, according to Investopedia. (second reference).
Operating Leverage in Practice
If a company makes many sales, each of which contributes very little to the bottom line, it is considered to have low operating leverage. This is because there is less risk than in a company that relies on just a few big sales each year to make a profit—one canceled deal can put a serious dent in earnings. Likewise, if a company has well-known fixed costs, it is also seen as having low operating leverage. This is because fixed costs are known, so it is very easy to estimate how much money a company will need each year. By contrast, if a company's costs vary widely from year to year, it can be difficult to tell how much money it will need, and even a small miscalculation can leave it in the red for the year.
The Connection
Operating leverage and business risk have an obvious relationship. The higher the operating leverage, the more business risk a company has. This is because if a company that depends on just a handful of sales loses a client, a large portion of its revenue will be gone, which could leave it unable to pay creditors. Or, if a company has variable costs and it underestimates how much money it will need during a fiscal year, it could run short of cash and be unable to pay its bills. Conversely, those companies with less operating leverage are more stable and less likely to default on their bills simply because they have a greater ability to forecast their financial situation and see problems coming much further ahead.