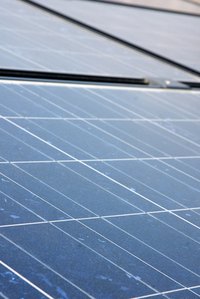 Fossil fuels still provide approximately 85 percent of our power according to the U.S. Department of Energy, but natural sources of energy, such as solar and wind, are quickly making their way up the ladder. Fossil fuels contribute to climate change and many are looking to natural sources of energy for an environmentally friendly and cheaper way to power electricity. Both homeowners and the companies are looking towards green energy as a solution. The U.S. Department of Energy is actively researching and employing natural sources of energy around the world.
History
Natural Sources of energy, such as wind power and solar power, are not new ideas; some have been around for centuries. According to the Energy Information Administration, water wheels have been used to power mills dating back to Roman times. Windmills have been used since the 10th century in the Middle East. Technology has changed quite drastically since then, and now solar energy, wind energy and water are all used to create power in the U.S. In recent years, climate change has become even more of a concern. While fossil fuels still make up close to 85 percent of U.S. energy, natural energy sources are continuously becoming more powerful.
Types
Natural sources of energy are abundant and free. According to the U.S. Department of Energy, geothermal energy is natural heat from the Earth turned into power for domestic use. Hydrogen power is combined with other renewable energy sources and is geared towards the auto industry and more fuel efficient automobiles. Solar power, energy harnessed from the sun, is another clean energy source used to produce electricity. Wind power is mostly seen in the form of windmill farms and is one of the quickest growing sources of energy. Hydropower is another source using the power of the oceans waves to drive turbines and produce electricity.
Advantages
The advantages are numerous. Natural energy is renewable and free to use; the only yearly cost is maintenance. All natural sources of energy are environmentally friendly and eliminate the need for oil and gas for many households. Because fossil fuels are in limited supply, natural sources of energy are a viable option.
Disadvantages
Natural sources of energy do have disadvantages. The cost of initial installation can be very high, making some forms impracticable as an immediate energy solution. Using natural sources of energy for power also depends greatly on natural occurrences. If there is no wind, then windmills don't generate power. When waves are low, hydropower isn't very efficient.
Considerations
Since natural sources of energy are not always individually reliable, the best option may be to combine multiple sources of natural energy. Using a few different forms in combination could supply a constant flow of power to a home or an entire community. Households looking to switch to natural sources may want to consider using a combination of a few different forms such as solar power, wind power and hydro power, depending on the surrounding environment.