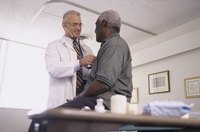 Healthcare marketing raises ethical questions that can be particularly challenging for facilities struggling to remain financially healthy without sacrificing quality of care. In addition, the Affordable Care Act is already changing the way healthcare is marketed, creating a new relationship between insurance providers and the general public.
Oxymoronic or Educational
To many consumers, the phrase "healthcare marketing ethics" sounds like a contradiction in terms. If the purpose of healthcare is to keep healthy people well and make sick people better, it may not seem ethical to try to sell them anything other than what they actually need. However, marketing is not always profit-oriented, because people don't always realize what they need or what treatments are available. For instance, the public wouldn't know that a local hospital had a revolutionary new cancer screening system if the hospital didn't market that information.
No Conflicts
The most important point in ethical healthcare marketing is to avoid any marketing practices that prioritize profits over the well-being of patients. The marketing of expensive treatments or specialties can be a conflict of interest if it focuses on winning business from those who might not benefit sufficiently from the offerings. Ad campaigns that make people nervous about whether they might have a particular condition can be unethical in the same way. Healthcare marketing can improve a facility's profitability, but it must be primarily focused on sharing accurate and useful information.
Truth in Advertising
Healthcare marketers must be careful to communicate honestly and accurately with consumers. For instance, if a doctor advertises that he offers an experimental cancer treatment without mentioning that it has not been proven effective, the misleading ad could discourage patients from seeking more established forms of treatment. Some services have risks and benefits that cannot be adequately explained in a 30-second TV commercial. In this situation, it may be more ethical to find another way to advertise the service rather than presenting information so vague it can't help but mislead the viewer.
The 80/20 Rule
Before the passage of the Affordable Care Act, health insurance companies marketed their services primarily to healthcare providers and the providers marketed to the general public. Under the ACA, health insurance companies need to market directly to the public. However, the ACA mandates that 80 percent of insurance premiums must be used to pay for medical care and only 20 percent can be used for administrative costs and marketing. The 80/20 rule treats educational outreach efforts as a healthcare cost rather than a marketing cost, so insurance providers are expected to focus a lot of their advertising money on educational spots that don't market their products directly.