Cipro, or ciprofloxacin, is a fluoroquinolone antibiotic used to treat bacterial infections in the body. In some people, ciprofloxacin can cause serious side effects, including back pain. If a patient being treated for a urinary tract infection develops back pain and a fever while taking this antibiotic, she should report this to the doctor immediately, as this could be a sign that the infection is getting worse, according to the Medline Plus website.
Infections Treated by Ciprofloxacin
Ciprofloxacin comes in tablet, liquid and extended-release tablets and is used to treat or prevent anthrax and other gram-negative bacterial infections. Bacteria fall into two categories: gram-positive or gram-negative. To determine the proper treatment, bacteria are tested by a procedure called Gram's stain. Gram-negative bacteria do not hold purple dye when stained by Gram's stain; they stain pink. Certain urinary tract infections fall under this category and are treated with the extended-release tablets.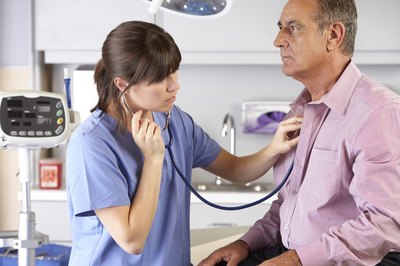 Important Warnings about Ciprofloxacin
Ciprofloxacin carries a special warning about the possibility of developing tendinitis or experiencing a tendon rupture while taking this medication, Medline Plus warns. People over the age of 60 are more susceptible to this. Children under 18 can develop problems with bones, joints or the tissues surrounding joints. Joint and tendon problems usually occur in the shoulder, hands and back of the ankle, but they can occur elsewhere. Although tendinitis or joint pain could involve the back, back pain, especially if accompanied by a fever, may indicate a different problem. Both types of back pain should be reported to your doctor immediately.
Back Pain
Less than 1 percent of people reported musculoskeletal problems such as joint stiffness, neck or chest pain and back pain. However, while taking ciprofloxacin for a urinary tract infection, you should watch for signs such as a fever and back pain.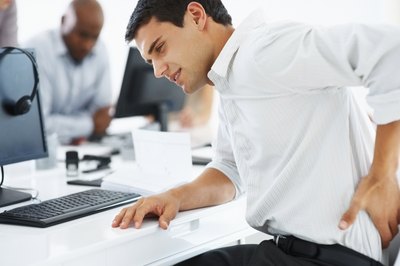 What to Avoid When Taking Ciprofloxacin
Certain foods and medications should be avoided when taking this antibiotic, because they can lessen the effectiveness of the treatment, according to warnings at the Medline Plus website. Do not take ciprofloxacin with dairy products or calcium-fortified juice alone; you can, however, take ciprofloxacin with a meal that includes these foods or drinks. Also avoid taking the ulcer medication sucralfate, didanosine powder or chewable tablets, antacids containing calcium, magnesium or aluminum, and vitamin or mineral supplements that contain calcium, iron or zinc at the same time as the ciprofloxacin.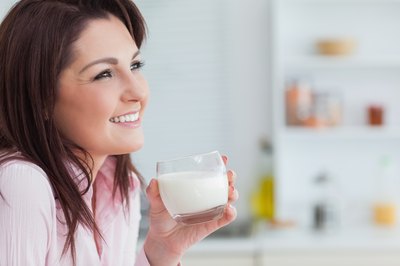 Side Effects vs. Symptoms of Increasing Infection
Ciprofloxacin may cause some side effects, including nausea, vomiting, stomach pain, heartburn, diarrhea, an urgent need to urinate, headache and vaginal itching, according to Medline Plus. If any of these side effects become serious or you experience difficulty breathing, call your doctor immediately. These side effects should not be confused with back pain that is accompanied by a fever, which is not a side effect but an indication of a growing infection in patients with urinary tract infections.