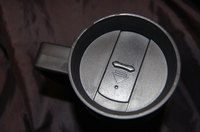 Society's love affair with coffee has spawned a massive travel mug industry. Some of these products are better than others. Cups that readily spill their scalding contents or fall out of your car's cup holder can compromise your safety. Whether to buy a ceramic mug or a stainless steel model is an important health question worth exploring. All in all, investing some time in choosing the right travel mug may benefit your health and well-being as well as improve your daily commute.
Function
People who enjoy a beverage on the go choose travel mugs based on various criteria, including size, drinking comfort and appearance. Any travel mug, whether stainless steel or ceramic, must be both functional and safe. It must also be leak-proof (a tight-fitting lid is crucial), easy to hold, well-insulated, and it must fit securely in your car's cup holder.
Ceramic Mugs
The Food and Drug Administration (FDA) reports, "Most glazes for ceramic products contain lead but are safe because they have been properly formulated and fired to prevent the release of toxic amounts of metal into foods." However, the FDA warns that imported pottery, especially that made by individuals or small cottage industries abroad, may not be properly treated and can release substances such as lead into food and drinks. A "quick color test" can be used to determine if a ceramic product leaches more than the allowable level of lead. In general, consumers are urged to buy ceramic products from reputable retailers and ensure that the glaze on these products is not cracked, chipped or worn.
Stainless Steel Mugs
Made from iron and other metals, stainless steel is extremely strong and resistant to daily wear and tear. The metals in stainless steel that can affect health are iron, nickel and chromium. Health Canada reports that North Americans are more likely to be low on iron than ingest too much of it. Using stainless steel cookware and dishes does not add significant amounts of iron, nickel and chromium to the diet. Nonetheless, consumers are urged not to store highly acidic food and drinks in stainless steel vessels for long periods of time.
Cups Galore
A few stainless steel models come with a built-in French press plunger that allows you to brew coffee or tea in the mug without the need for filters or bags. Some travel mugs now come with power or USB plugs to help you keep your coffee hot. Ceramic mugs with plastic tops are an attractive alternative; they are microwave-safe and do not transfer flavor to beverages the way metal and plastic cups sometimes do. One drawback to ceramic, however, is its inherent fragility.
Other Considerations
Screw lids, which are available on stainless steel mugs but not ceramic models, tend to give the best leak-proof seal. Given that travel mugs tend to sit for long periods of time with remnants of drinks congealing in the bottom, buying one that's easy to wash is another health benefit. Extremely narrow and potbelly varieties tend to be more difficult to clean on the go.