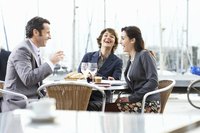 Unlike a sole proprietorship or partnership, a limited liability company, or LLC protects business owners from having their personal assets seized or sold in any legal judgment against the business entity. An LLC also offers some flexibility in how its members put together its management structure. Members can choose to manage the business themselves, or they can select proxy managers to handle the day-to-day affairs of the business.
Member Management
Unlike corporations, which have management positions such as president, CEO or board of directors, the individual members of the LLC take management roles in the company as defined by their operating agreement. The structure in which the members participate directly in LLC management is known as a "member management" structure. In a member management structure, each member has the authority to sign business agreements on behalf of the LLC. These agreements are legally binding on all the members, not just the signee.
Manager Management
In some instances, the members may choose to invest in the LLC, but not take part in the routine operations. Instead, these members may appoint business managers to look after the daily tasks of the business. When the LLC members appoint managers, this arrangement is known as a "manager management" structure. The members grant the managers the authority to sign business agreements on behalf of the LLC, but members still retain the authority to replace their designated managers.
LLC Documentation
The establishment of an LLC requires two major agreements: an operating agreement and articles of organization. The operating agreement specifies the members of the LLC, their roles in the company, their voting powers and the rules for adding or subtracting members. The articles of organization specify details such as the name of the LLC, the name of the company's registered agent, the purpose of its business, its management structure and the names of its members.
Multiple Businesses or Divisions
An LLC can provide a structure that allows its members to operate multiple businesses or divisions under the same company. The members can file the articles of organization for their LLC with the proper state agencies. They can also file DBAs ("Doing Business As") that state that the respective businesses are subsidiaries of the LLC. This structure allows the members to establish multiple business entities while reducing their legal liability, minimizing their tax liability and giving each subsidiary added credibility as part of the LLC.