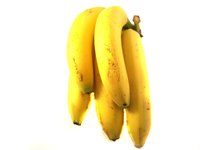 The human body naturally creates levels of acid and alkaline, and it naturally has the ability to balance the two. The alkaline level should make up about 75 percent of the body, whereas the acidity level should make up only 25 percent of the body. However, the foods that humans consume affect these levels, and when eating too many acid-forming foods, the balance between the two is destroyed. Potassium is one type of matter that helps raise alkaline levels.
Acid vs. Alkaline
The acid and alkaline levels in our body determine how healthy our body functions. Alkaline levels should make up the majority of our body's fluid, and even blood should be slightly alkaline. However, when you consume too many acid-forming foods, blood can become acidic and cause our heart to relax and cease to beat. Also, high levels of acidity in the body make your body more susceptible to infections, colds, the flu and diseases. The two need to be balanced in the body for optimal health and energy, and the foods you eat determine the levels of each in the body.
Acid Overdose
Human bodies have the natural ability to balance acid and alkaline levels, a ratio referred to as pH. The pH balances positively charged ions, which are acid-forming, with negatively charged ions, which are alkaline-forming. However, the body's natural ability to balance these levels is compromised when a diet consists of more acid-forming foods than the body can handle. According to PreventDisease.com, a typical American diet contains far too many acid-forming foods, such as meats and fats, and not enough of alkaline forming foods, such as fruits and vegetables.
Potassium Significance
It is the inorganic matter in foods, such as potassium, sodium, calcium and magnesium, which determine the acid or alkaline levels in our body's fluids. Dr. Sagan Ishizuka, founder of Japanese Macrobiotic Medicine and Diet, quoted on InnerSelf.com, said that foods are divided into two activating categories, which include potassium and salt. If you eat foods rich in potassium, such as grains, fruits and vegetables, the blood will oxidize, alkaline levels will rise and the body will function physiologically better than if you consume foods high in salt, which create acid.
Potassium-Rich Foods
InnerSelf.com recommends that your daily intake of food be 75 to 85 percent foods that are alkaline-forming foods. These foods are rich in potassium and low in salt. These include fruits, particularly bananas, cantaloupe and dried figs, sea vegetables, sprouted seeds and beans, cheese and plain yogurt, nonfat milk, egg yolks and alkaline grains, including millet, buckwheat and sprouted grains. Only 15 to 25 percent of your daily food intake should be acid-forming foods, such as proteins-rich meats, fish, nuts, oils, white sugar, artificial sweeteners, grains besides those mentioned above, and chemical and artificial additives.
Optimal Health
By consuming foods high in potassium, along with magnesium and calcium, you can balance your body's alkaline and acidic levels, and you can create optimal health in your body. For example, by increasing your potassium intake and improving the levels of alkaline in the body, you can decrease your chance of developing cardiovascular disease, weight gain, diabetes, bladder and kidney conditions, autoimmune disorders, cancer, premature aging, osteoporosis, joint pain, fatigue, colds and flus, nasal congestion, anxiety, headaches and more. However, NaturalNews.com recommends getting your potassium and calcium from foods rather than supplements, which could contain chemicals that make the supplements acidic.