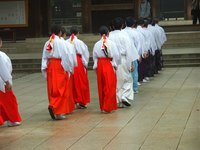 A split skirt is a garment that has a meaning and a purpose behind it. Although it is often confused with a similar garment, it is uniquely its own because of its size, cuts and length. And the split skirt can be created in many different types of fabric to suit those with a picky taste in fashion.
Definition
The split skirt is a pair of shorts that often extends to the knee. The legs part of the shorts, however, is very large, so when worn on the body, the garment falls naturally and appears as a skirt. They can be matched with shirts and tops of any kind. A split skirt can be worn as a skirt or as shorts. They are often considered to be sporty, comfortable and classy, depending on the fabric choice.
Length And Size
The length of a split skirt varies, but the most common is knee-length or shorter. The leg proportions vary by design, but it is the goal to make the fabric light and cozy, so the fit is more comfortable than regular jeans, skirts and shorts.
Types of Fabrics
The types of split skirts in terms of fabrics are numerous. According to Nextag, split skirts come in denim, stonewash denim, khaki, knits, stretch denim, prints and patterned fabrics. The design depends on the supplier, but according to Nextag, there are quite a variety of split skirts on the market.
Cultural Meaning
Historically, split skirts had the same purpose as hakama pants. Split skirts were used in Aikido, a nonviolent Japanese martial art. In this sport, technique and skill are of utmost importance. According to the Rio Grande Valley Aikikai, the split skirt is a traditional garment worn during a fight. Traditionally, the split skirt hid the ankles and feet, so opponents could not anticipate from what direction the next attack would come.
Misconceptions
The common misconception with split skirt is culottes. Although the two garments appear to be very similar, split skirts are often shorter than more fitted than culottes. According to Modest Clothes, culottes look like skirts at first glance, but are loose shorts with a traditional knee length. The main differences between the two are the fit of the split skirts and the length.