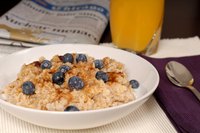 The oatmeal and fruit diet challenge is to consume only oatmeal and fruit for 30 days to achieve weight-loss goals. Oatmeal, a food full of nutritional value, has proven to show great results in reducing high levels of cholesterol and providing the body with a valuable amount of fiber. Although this strict temporary diet consisting of only oatmeal and fruit can help you achieve your weight-loss goals, it is not recommended as a permanent diet solution. Consult with a health care professional before starting any diet to ensure it is the right solution for you.
The 30-Day Plan
The first rule of an oatmeal and fruit diet is to only consume oatmeal and fruit for each meal for 30 days. It is recommended to eat only whole oatmeal (whole-grain oats), which you can purchase at some grocery stores or at organic and natural food markets. Stay away from instant and prepackaged oatmeal and granola snack bars, although some say you can add these to your diet after the first week.
For optimized weight-loss results, consume only 1/2 cup oatmeal for each meal during the first week. You can combine this with 1/2 cup skim milk. For this first week, keep your calorie intake between 900 and 1,200 calories per day.
After the first week, you can continue eating the 1/2 cup oatmeal three times a day and also incorporate fresh fruit, such as 1/2 cup strawberries, oranges, bananas, apples, seedless grapes or blueberries, for a morning or afternoon snack. For the remainder of the 30-day diet, keep your calorie intake between 1000 and 1,300 calories per day.
After the 30 days is up, begin eating your normal diet, but continue eating one snack and meal of oatmeal and fruit. In order to sustain and/or optimize your weight loss, watch your fat intake and consider eating more fresh vegetables and lean meats.
Benefits
Consuming oatmeal regularly can provide your body with a lot of nutritional benefits. Oatmeal is high in soluble fiber and can reduce cholesterol, which are important in lowering your risk of heart disease. Oatmeal is also a good source of low glycemic carbohydrates, which can help stabilize blood sugar levels.
Oatmeal, specifically, is a very low in calories and can last longer in your digestive tract, which may create a sense of fullness or satisfy hunger longer. Fruit provides your body with vitamins and nutrients that can be missing from your diet, as well as add a variety of flavors.
Weight-Loss Process
Including oatmeal into any diet may help promote weight loss because the high-soluble fiber can create a sense of feeling full that lasts longer than other foods. Oatmeal is also great to eat in the morning for breakfast, which is thought to contribute to and maintain weight loss compared with those who do not eat breakfast.
Although you may experience weight loss in the beginning because of the low calorie intake, it is not recommended to continue on this diet program for any extensive period of time because of the extraordinarily low calorie intake and variety of proper nutrients. These may cause your body to not consume a proper amount of fuel that it needs to function normally.
Side Effects
With any diet, you may experience a sense of hunger, which can cause headaches and dizziness. Also, with a low-calorie diet with a limited variety of food choices, you may also experience other side effects from lack of nutritional value. Consume enough supplements to support your body's healthy function.
Precautions
Before starting this or any other diet, consult with a healthcare professional to determine if this is the right weight-loss solution for you.
Consume enough vitamins, minerals and antioxidants to take place of those you are not getting from the foods you have removed from your diet.