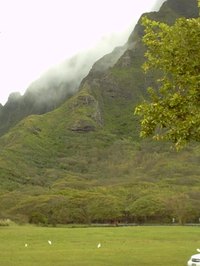 The state of Hawai'i is a chain made up of eight distinct islands in the Pacific Ocean far off the coast of the United States. Each island has unique characteristics, and the main island of Hawai'i gains much of its identity from its size.
Significance
Hawai'i is the largest of the main eight Hawaiian Islands at more than twice the size of the other islands combined (the other islands, in order of size, are Maui, O'ahu, Kaua'i, Moloka'i, L?na'i, Ni'ihau and Kaho'olawe). Its nickname appropriately is The Big Island.
Size
Hawai'i has an area of 10,432 square km (4,028 square miles). Its population of 148,677 as of 2000 is second among the Hawaiian Islands, although that figure is far below the 876,156 of O'ahu, where the capital of Honolulu is located. The population density in 2000 was only 37 people per square mile, which ranks fourth among the eight islands—by contrast, O'ahu has 1,468 people per square mile.
Volcanoes
Hawai'i is made up of five main volcanoes. Mauna Loa is the central volcano that stretches all the way to the south of the island. To the east of Mauna Loa is K?lauea, which has been erupting continuously since 1983. To the west is Hual?lai. To the north is the dormant Mauna Kea and farther north along the tip of Hawai'i is the extinct Kohala, which is the only volcano that doesn't touch Mauna Loa. All five of these are shield volcanoes that have gently sloping sides.
Elevation
The highest elevation of Hawai'i is the summit of Mauna Kea at 4,205 m (13,796 feet). The summit of Mauna Loa is a very close second at 4,170 m (13,679 feet). These volcanoes represent the highest elevation of all the Hawaiian Islands. The next highest is Haleakal? volcano on Maui Island at 3,055 m.
Mauna Kea
Because the bottom of the volcanoes reach all the way down to the sea floor, Mauna Kea is actually considered the tallest mountain on Earth. From its base beneath the waves to its summit above Hawai'i, Mauna Kea stands at 10,000 m tall, which is over 30,000 feet. This is compared to Mount Everest, which stands at 8,848 m tall.