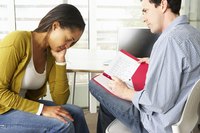 Mental health program directors implement specific programs and plans related to medical financing, emotional or behavioral intervention plans, legal issues, children, youth and family services. The director provides expert insight and technical research as it relates to a specific health program.
Environment and Basic Role
A mental health program director may manage one or various health programs and serve as a liaison with mental health facilities like foster care homes, state hospitals, mental wards and case management clinics. She is the go-to person and leader for evaluating programs, projects and grants management.
Range of Responsibilities
Responsibilities include, but are not limited to, developing, planning, establishing goals and evaluating the program for the facility the mental health program director works for. This person may also oversee the budget and funding for the program. He ensures that the program is compliant with licensing regulations. The director may also communicate with medical staff, corporate health offices, federal and state agencies, patients and families. The mental health program director writes reports and provides input as it relates to treatment goals and objectives.
Job Qualifications
Many mental health program directors have a license as a social worker, nurse or counselor. There are even some who have a license to practice medicine. The minimum qualifications include a bachelor's degree, usually in behavioral science or a social science field. A strong familiarity with child and family service systems may also be required.
Typical Experience
An average of three or more years working or interning in a regulated health care environment is usually required. Excellent communication and writing skills are important due to the research and reports that the mental health program director will provide to hospitals, the facility she works for and other health professionals.
Work Environment
A mental health program director works in an office environment. This person may also resolve problems or issues with patients and community organizations in person, since it relates to the health program they are working on. There is frequent communication by telephone to compile research and relay information about health care programs. Long hours of sitting down and in front of a computer may be necessary. There may also be times when this person must travel to other health facilities for training on new or updated regulations.