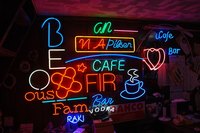 Business marketing is essentially the promotion of a company's products or services to a specific audience, or engaging in acts that improve a company's name recognition and public goodwill. Advertising is the more generic promotion of a product or service to a less-specific segment of a target market. Although advertising and marketing are not synonymous concepts, adding an ad component into a marketing strategy is a standard business practice.
Marketing Plans
A traditional marketing plan outlines a business's strategy for publicizing its products and services, improving its mindshare with the target market and building goodwill about the company's brand identity. Many marketing activities are not related to advertising--for example, sponsoring a community event or publishing a CEO blog. Some marketing activities are "passive"--e.g., a coherent and consistent logo and stationery design.
Advertising Plans
An advertising plan, by contrast, is intended to actively promote a specific product or service to a defined consumer segment. For example, a manufacturer that developed a new widget for use in heavy industry might develop a sales brochure which it direct-mails to the purchasing managers at heavy-industry plants, as well as reserve a full-page advertisement in a relevant trade journal.
Marketing Without Advertising?
Although it is possible to market a company or even a product line without direct advertising, through intangibles like word-of-mouth testimonials, in general, advertising is the most effective way of communicating a product or service to a target audience. In a sense, ads are the cheese on the marketing mousetrap.
Return on Investment
Professional marketers usually segregate the return-on-investment for both marketing and advertising programs. In general, an ad program should generate more closed sales than the program cost to develop; however, not all of advertising's impact is quantifiable--for example, a poorly designed ad could upset the target market.
Considerations
Advertising plans are generally tactical approaches to a larger strategic vision contained in the marketing plan. The marketing plan should drive the ad plan, but not the other way around--otherwise, a company's overall public image can run the risk of incoherence. Additionally, the core principles in the marketing strategy will often shape what sorts of ads are acceptable--a Christian bookseller, for example, is unlikely to advertise a new Bible translation by means of women in bikinis.