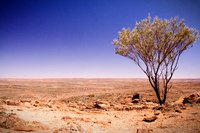 Prepare for an arid, hot journey when traveling across the brick-red dirt of the Australian Outback. The rural interior portions of Australia, also known as the Outback, offer very little seasonal transitions. Whether you're heading to the center of the continent in the winter or summer, take sunscreen, bottled water and a windbreaker jacket.
Location
The Outback of Australia encompasses portions of five out of six territories, excluding the island territory of Tasmania. Defined without official borders, the Outback encompasses the interior of the South-of-the-Equator continent.
The Outback includes the Southern region of the Northern Territory, the Central and Eastern portions of Western Australia, the Northern and Central portions of Southern Australia, the Northwest corner of New South Wales, the Southeastern portion of Queensland and the far Northwestern areas of Victoria.
Rain
Seventy percent of inland Australia maintains an arid climate, according to Diamantina Touring Company based out of Victoria, Australia. The Outback area sees very little rain and can go years without any precipitation. The central region receives the least rainfall of the entire country. The driest location in the Outback is Mulka Station on the Birdsville Track. On average they receive 120mm, or just under 5 inches, of rain per year.
Wind
Seasons dictate wind patterns in Australia. From October through March expect winds to blow from the Southeast. The strongest winds gust from October to December. The Aboriginal people of Australia refer to the last few months of the year as "the windy season." The combination of wind and areas with little vegetation makes dust storms common in the Outback. Winds fade to a gentle breeze during the cooler months of April through September.
Temperature
Since the Outback covers large portions of the continent, maximum temperatures range from 18 to 39 degrees Celsius, or roughly 64 to 102 degrees Fahrenheit. The coolest month to visit is July, the height of the winter season. Expect frost half of the mornings in July and August. During the summer, the sand hills and rock structures get much warmer than the plains and desert areas. Expect the mercury to climb to 50 degrees Celsius, or 122 degrees Fahrenheit.
Facts
The interior of Australia harbors no major cities due to the climate. The land can't support farming. The sparse vegetation in the region has adapted to receiving very little precipitation, according to the Australian Government Bureau of Meteorology. Eighty percent of Australia receives less than 600mm, or 23.6 inches of rainfall per year.