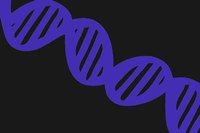 Biologists Watson and Crick first described the double stranded structure of DNA (deoxyribonucleic acid) in 1953. There have been many remarkable developments in science and technology using the knowledge of DNA structure in the last few decades, including forensic science. Forensics utilizes scientific applications in the field of law. As the science is progressing in the field of DNA, so is its use in solving forensic cases.
DNA Technology
DNA is the genetic coding contained in individual body cells. It is a double helix structure where each strand contains nucleoside-base pairs. The sequence of these base pairs is specific to the individual. The specific sequence of nucleotide-base pairs in DNA is also known as the gene. In the study of DNA, the sequence of base pairs is studied and this is compared with either a known pattern or from other cells that have to be identified for common origin.
DNA in Forensics
Blood, hair, body fluids, semen, vaginal fluids and other tissue cells are collected as samples. Two types of samples are collected: one from the crime scene and the other from the suspect. These samples are processed and then by using molecular biology techniques the DNA is identified and then compared in both of the samples. If the DNA sequence is found to be the same in both of the samples, it is evidence that the cells are from the same person and hence responsible for the crime. It can take three weeks to three months to conduct a DNA analysis test.
Techniques
Two common techniques used for studying DNA in forensics are RFLP (restriction fragment length polymorphism) and PCR (polymerase chain reaction), which in simple words are known as DNA fingerprinting. Other techniques like STR analysis, mitochondrial DNA analysis and Y chromosome analysis are also being developed and used in forensic DNA testing.
DNA Profiling
DNA profiling is a common term in the field of forensic science. It is a primary method of identifying a person and solving a crime. DNA profiling is based on the fact that every person has a unique DNA fingerprint. Hence, DNA profiling provides an important tool in criminal investigations. A technique called electrophoresis is used to obtain DNA profiling.
Significance
DNA tests are highly specific. If the test suggests that the samples are from the same person, the chances that the test might be giving false report is very small, and even the courts consider this as good evidence on which to base rulings. This makes DNA tests the most accurate piece of scientific evidence a lawyer can have and hence, the DNA technology is being increasingly used for solving many cases.