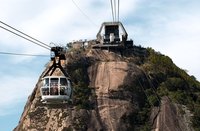 Sugarloaf Mountain, formally known as Pão de Açucar, is located in Guanabara Bay off of the famous beaches of Rio de Janeiro. The mountain is a natural geographic feature covered in green vegetation. Visiting the top of the mountain is one of the top tourist activities in the city and the mountain itself is a symbolic icon of Brazil throughout the world.
Appearance
Sugarloaf Mountain is believed to have formed over 600 million years ago. Reaching a peak height of 1,300 feet, the loaf is classified as a morro: a narrow rocky outcropping usually made from quartz and granite set in the shallow waters of a harbor. Sugarloaf sits in Guanabara Bay and is within viewing distance of most of the famous beaches of Rio.
Name History
In Brazil, Sugarloaf is known as "Pão de Açucar," literally "sugar bread." However, it wasn't always referred to as such. In Tupi, the language of the indigenous peoples who inhabited the region, the mountain was referred to as Pau-nh-Acqua. The first name change was initiated by French invaders who dubbed the outcrop "Pot du Beurre" meaning "butter pot." The first Portuguese colonists then renamed it "Pão de Sucar," meaning "sugar bread," followed by the returning French who renamed it "Pot de Sucre," meaning "sugar pot." Finally in the 17th century the Portuguese cemented their domination of the area against the French, and "Pão de Açucar" became its final and permanent name.
Why Sugarloaf?
A sugarloaf was the common form in which the final product of refined sugar was kept. Raw sugar was boiled, filtered and then poured into a conical mold made from clay or iron. The molasses and dark colorings would drip out of the sugar and cone through small holes in the bottom, leaving only the refined sugar in a hard, compact conical loaf. As sugarcane was the top export product from Brazil from the 16h through the 19th centuries, the mountain was named in reference to its similar conical shape.
Visiting
A cable car takes visitors to the top of the mountain. The car was first introduced in 1912 when Rio began to be seen as a top tourist destination. The car ride must be completed in two stages. The first stage takes passengers only to a summit hill called Morro de Urca. Passengers must then board a second car to take them all the way up to the top of Sugarloaf. As of 2010, the tariff for riding the cable car was R$44 for adults, R$22 for children ages 6 to 12, and free for all children under 5 years.
Fun Facts
Sugarloaf is an iconic world symbol of Rio, second in the city only to the Christ the Redeemer statue. The mountain has appeared in many movies including the 1979 James Bond film Moonraker. The name "Pão de Açucar" is also the name of a large chain of grocery stores throughout Brazil.