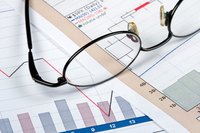 A fund flow statement, better known as a cash flow statement, is an important document in the accounting world. A fund flow statement shows a company's inflows and outflows of funds. It is used to show investors, stakeholders or owners where the company's money came from and where it went.
Importance
A fund flow statement is an important tool used in evaluating a company's performance. A fund flow statement is a statement that shows all money coming in to a company and all money leaving a company during an accounting period. This statement is used by investors when considering investing in a company. The fund flow statement shows problems a company has if the cash flow is negative.
Occurance
Fund flow statements are prepared as often as needed. Small businesses prepare them more often, usually monthly, quarterly and annually. Larger businesses typically prepare them less often, usually quarterly and annually.
Two Methods
The two methods for preparing fund flow statements are the direct method and the indirect method. The direct method is used less often, making the indirect method the preferred way of preparing it.
Content
A fund flow statement is prepared by comparing two accounting period's balance sheets. The statement is divided into three sections; cash flows from operations, cash flows from investing activities and cash flows from financing activities. The indirect statement begins by taking net income from the balance sheet. All other items are compared using the balance sheets and the differences are either added or subtracted to net income to find the total. The statement concludes with the net increase or decrease in cash.
Interpreting Information
When this statement is completed and analyzed, an investor sees the increase or decrease in cash for a specific period. This statement shows where the money came from and went. If there is a decrease in cash for the period, the investor sees whether it's from paying off debt, investing in new assets or failing to collect assets owed. This statement speaks loudly to investors as to the condition of the company. Generally, a company with poor cash flow is not a good company to invest in.