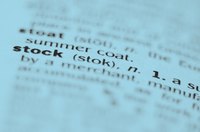 Value and growth stocks are two categories of stocks that reflect the financial metrics of the underlying companies. Investors consider value stocks "cheap" and growth stocks "expensive," but each category attracts investors for different reasons. The long-term returns of growth and value stocks indicate that each category tends to outperform the other on a rotating and cyclical basis.
Value Stocks
Value stocks are those considered by investors to be trading below their fair value. Fair value is often determined by using a company's price-earnings multiple, which is the company's stock price divided by its earnings per share. Stocks that trade below their historic P/E multiple are often considered value stocks.
Although some stocks remain value stocks for long periods of time, others can bounce back and forth between being considered value or growth stocks. For example, if a stock has a bad earnings report and tumbles in price, investors might avoid it for a period. That stock might be considered to have gone from growth to value status.
Other stocks simply trade at low valuations for a long period of time, and they might return most of their value to investors as dividends rather than in capital appreciation.
Growth Stocks
Growth stocks are usually characterized by high rates of earnings growth and small or non-existent dividend payouts. As with value stocks, some growth stocks trade at perennially high valuations, while others are upstarts that might become growth stocks for only a short period of time before collapsing back into the value camp.
Growth stocks tend to be in high-growth industries, such as computer software or biotechnology. However, other stocks might evolve into growth stocks depending on the market environment. For example, if legislation favoring a certain industry is approved, those stocks can undergo a boom cycle wherein they become growth stocks.
Periods of Outperformance
Over long periods, both value and growth stocks have periods of outperformance. Usually, growth stocks outperform during booming economic periods, as companies with aggressive growth profiles are able to leverage their earnings growth rates into high profits and high stock prices.
During periods of economic slowdown, value stocks tend to outperform, as their consistent earnings rates and high dividends attract investors who fear a collapse in the prices of growth stocks.
Long-Term Returns
One comprehensive way to compare the long-term returns of growth and value stocks is to use the Russell 3000 Growth and Value Indexes as proxies for the overall market. Each of these indexes reflects the performance of the 3,000 largest growth or value stocks trading in the marketplace.
From August 2006 to November 2009, growth beat value on a two-year rolling basis, which compares returns over 24-month periods. However, from March 2000 to August 2006, value beat growth except for a few short periods.
Reaching further back, value stocks outperformed growth stocks in eight of the 14 years from 1980 to 1993, and they earned a higher overall net return.
Taxation
By definition, value stocks provide more of their return from dividends than do growth stocks, and those dividends are taxable. However, growth stocks tend to be traded more frequently, and the resulting capital gains are taxed as well. Short-term gains, on stocks held for one year or shorter, are taxed at ordinary income rates. Long-term gains, on those held for longer than one year, are taxed at the more favorable capital gains tax rate--no more than 15 percent as of 2010.