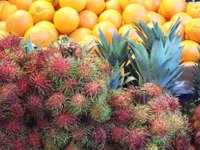 Travelers entering the United States are subject to strict limitations about what may and may not be brought over the nation's border. These rules are in place to help prevent the spread of diseases, especially those carried by animals in other countries. To avoid fines and travel delays, become familiar with what is and isn't legal before you travel.
Declare All Imports
First, travelers should know that all fruits, vegetables, seeds, meat and animal products must be declared on the CBP (Customs and Border Protection) Declaration Form, whether they are packed on a carry-on bag, in checked luggage or in a vehicle. Failure to do so may result in fines ranging from $1,000 to $50,000 (as of 2010).
Meat and Animal Products
Any type of canned or fresh meat is specifically forbidden when crossing into the United States. These limitations also extend to other untreated animal products, such as unpasteurized cheese and hunting trophies, such as deer heads. Products containing ingredients from animal parts are also forbidden. (For example, soup containing broth from foreign livestock may not be allowed.)
Produce
Laws about importing fruits and vegetables vary depending on the type of vegetation and the country of origin. However, even plants that are legal must be inspected and declared to be free of pests.
Plants
Any plants being imported for the purpose of farming or gardening must receive a phytosanitary certificate in advance. If you would like to contact the U.S. Department of Agriculture regarding one of these certificates, call 301-734-8645. You may also write to the following address:
U.S. Department of Agriculture Animal and Plant Health Inspection Service Attention: Permit Unit Plant Protection and Quarantine 4700 River Road, Unit 136 Riverdale, MD 20737-1236.
Live Animals
Regulations concerning the importation of live birds and other animals vary greatly, depending on the species. Contact the USDA with any questions, as guidelines may be subject to frequent change.
Complete List
For a list of items that are allowed over the U.S. border, see the link in Resources. However, be aware that this list may change frequently.
Reminder
Remember, declare all souvenirs and food you bring over from a foreign country, even if you are confident the item is legal. You may still receive a fine if you do not mention it. Be prepared to have carry-on and checked bags, or your vehicle searched for anything illegal. Things that may not be legally imported will be confiscated and disposed of by a customs worker.