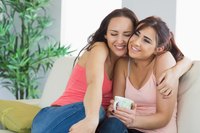 The Golden Rule states "Do unto others as you would have them do unto you." Many people attribute the sentiment to the Christian Bible, but it can be found in much older philosophies, such as Hinduism and Buddhism. It serves as a guiding principle for numerous religions and codes of ethics.
Consistency Principle
Within a code of ethics, the Golden Rule typically functions as a consistency principle: something to govern more concrete rules in the code and to serve as a guideline in instances not specifically covered by the code. It also helps a code of ethics remain logically sound, with all of the rules working in harmony with each other and no one rule contradicting any other rule. While it can't provide an answer to every situation, it does ensure that ethics and morality are applied with regularity.
Wide Applicability
Because the Golden Rule forms a basic tenet of so many different religions and philosophies, it covers a wide array of varying moral codes. That makes it applicable to almost any situation, regardless of whether you're dealing with a professional code of ethics, a statement of purpose from a community organization or personal morality. The flexibility also helps people adjust a code of ethics to fit changing circumstances without violating the underlying spirit.
Compassionate Spirit
At the heart of the Golden Rule is compassion and consideration for others -- the ability to put yourself in their shoes and consider how they might feel about a given act. Ethical principles often govern our interactions with others, and the compassion inherent in the Golden Rule keeps such interactions fair and open. It reduces the tendency to exploit those in a weaker position.
Resolution of Conflict
All codes of ethics seek to ease the strains of conflict between individuals and groups and to facilitate harmonious interaction and promote the most good for the greatest number of people. The Golden Rule holds conflict resolution at its heart, seeking to bridge the gap between individuals, faiths and countries. An ethical code that adopts it thus encourages solutions over conflict.
Internal Reflection
The Golden Rule encourages internal reflection as well as external action. When you consider how you would like to be treated, you become more aware of your own feelings and emotions, as well as the way they affect your interaction with the world. Such self-awareness makes it easier to apply ethical principles more readily, as you notice areas in which you may not behave in an ethical fashion and can search for ways to improve.