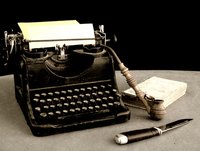 The typewriter filled people's needs to communicate in a faster and more productive way. Its invention revolutionized the writer's world, leaving writers more time to enjoy the "finer things in life," according to the Science Museum in London. Unlike the telephone, however, the typewriter was not an instant hit with the public. Maybe because typing was associated with work, or maybe because people believed that they would lose the personal touch of handwriting by using a typewriter, it took awhile for the public to take to this invention.
New Invention
The first typewriter was invented in the United States by William Burt in 1830. Called a Typographer, this machine printed one single letter after another. It took until 1874 for typewriters to become commercially successful when Christopher Sholes and Carlos Glidden teamed up with Remington to manufacture the "Type-writer."
Misconceptions
The Remington machine typed only capital letters and looked very much like a sewing machine, another Remington product. This first model used the "QWERTY" keyboard layout, introduced by Sholes, which we still use today. QWERTY are the first six letters of the keyboard. Sholes came up with this method when the regular ABC method kept jamming his machine. People may think that QWERTY is to make typing faster, but quite the contrary is true. Sholes wanted a slower system so that people would not type too fast and discover the machine's flaws.
Significance
Offices started using typewriters in the U.S. and in Europe, which led to new typist jobs for people. In America, the idea of using women for this job became the norm. The Young Women's Christian Association promoted the idea of this being a woman's job and taught women how to type. Typing provided women with better employment than working in shops, factories or as maids.
Features
In the 1880s, F.X. Wagner developed the typewriter style that we use today, called the Underwood No. 1, which was produced by the Wagner and Underwood Company. This typewriter allowed the writer to view what she was typing. Models prior to the Underwood had the paper enclosed inside the machine. The Underwood also was the first model to use the shift key, allowing for lowercase as well as capital letters.
Helped the War Effort
The next big invention was as important to typewriters as the laptop is to computers—the portable typewriter, developed in 1893. This was of particular use during World War I, when troops used portable typewriters in the trenches to record information.
Skeptics
Although George Arrington and Thomas A. Edison patented the electrically driven typewriter in 1871, the public did not trust that it would be reliable. Electric typewriters did not become widely used until the 1950s, when IBM started producing them.
Expert Insight
Computers replaced typewriters in homes and offices, which made typewriters more of a collectible than a useful product. The original Remington No. 1 is extremely valuable for collectors, according to the Science Museum in London.