The staff that works the front desk in a medical office is the first point of contact between that office and its patients. Depending on the size of the practice, there may be multiple people working the front desk or just one. Medical office front desk job duties include general administrative tasks as well as duties specific to working in a medical facility.
(Catherine Yeulet/iStock/Getty Images)
Clerical duties assigned to the staff at a medical front office include answering telephones, routing calls, taking messages, greeting visitors and patients, handling correspondence, scheduling appointments and dealing with bookkeeping and billing tasks. The staff members also take payments and make outbound calls to remind patients of upcoming appointments. In general, the staff members work to keep the medical office running efficiently by keeping everything organized and handling transactions and paperwork in a time-sensitive manner.
Keith Brofsky/Photodisc/Getty Images
The front office workers are responsible for updating and filing patient medical records, so they need to have a general understanding of medical terminology and processes. They also help patients fill out insurance forms and might arrange for laboratory services or hospital admittance. Office staff members may answer general medical questions or refer patients to someone who can answer their questions.
Comstock Images/Stockbyte/Getty Images
The members of a medical front desk staff work indoors in an office environment. They spend a significant amount of time on the phone and computer, and they interact with people regularly. The job can be stressful due to working with people who are ill or concerned about health issues. In general, medical front desk workers keep a 40-hour workweek within normal business hours, though some medical facilities are open on weekends or during the evenings to accommodate patient needs. In some cases, medical front desk workers have part-time schedules.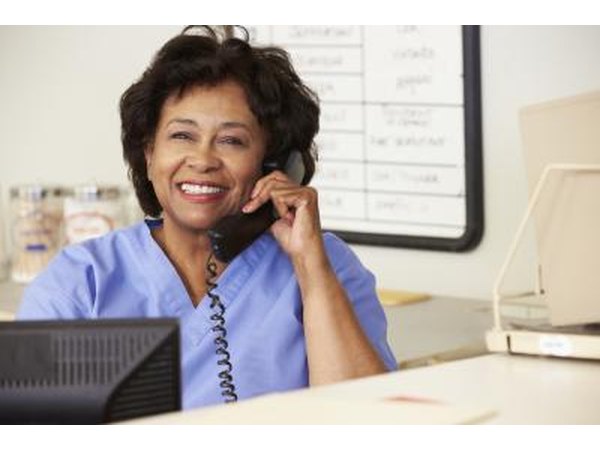 Catherine Yeulet/iStock/Getty Images
To secure a job in a medical facility front office, you usually need a high school diploma or equivalent. You might better your chances for getting a job by completing administrative coursework at a vocational-technical school or community college.
Since the front office staff deals extensively with patients, you must be diplomatic, courteous and helpful. At times, you may need to put patients at ease or deal with complaints. It is imperative that front office staff in a medical facility maintain confidentiality, since you will deal with patients' personal medical information. A good eye for detail, the ability to deal with repetition and a strong task focus are necessary for completing the clerical work required in this role.
Fuse/Fuse/Getty Images
The average annual pay for a medical front desk worker was $30,000 as of 2010, according to Indeed.com. This type of work is usually paid hourly, and benefits may be available, depending on the individual employer.
Comstock Images/Stockbyte/Getty Images
Promoted By Zergnet