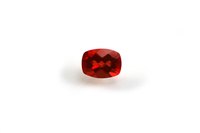 Red diamonds are considered to be the very rarest of colored diamonds, which include blue, pink, black, gray, green and more. Colored diamonds are said to be gaining in popularity and, as diamonds go, are considered expensive.
A "Fancy Red" diamond, the most desired of the reds, indicates that the diamond is not treated for color, making it even rarer and more expensive to find. Fancy Red also indicates that the diamond has no other adulterating colors in it, such as brown, purple or pink.
The Four Cs
The four Cs in diamond appraisal are also known as "color, cut, carat and clarity," as established by the Gemological Institute of America. This refers to the four categories that a diamond buyer must deliberate when he or she is investing in a purchase.
A diamond is considered most valuable when it has no color, as noncolored diamonds are best able to reflect color around them. The least amount of color that a diamond has, the more valuable it is.
Naturally-colored diamonds are said to be cut to reflect color, not clarity; they are also usually smaller than noncolored diamonds.
Choosing Colored Diamonds
Noncolored diamonds are graded from D to Z (with Z being light yellow, or colored). Colored diamonds are not graded in this way and are merely described based on their predominant hue, such as "red" or "reddish-brown," if brown is the secondary color.
These diamonds are, however, graded by intensity of color, and are priced accordingly, with stronger hues being more valuable. The terms used to describe these grades are: "Faint," "Very Light," "Fancy Light," "Fancy," "Fancy Intense," "Fancy Dark," "Fancy Deep" and "Fancy Vivid."
Treating Red Diamonds for Color
It is possible to treat red diamonds with heat to render them more red, but these diamonds are worth less, as it is not possible to control the outcome of the color once the diamond is heated. A quality diamond dealer is one that claims never to heat-treat colored diamonds.
The Moussaieff Red Diamond
The Moussaieff Red Diamond is the largest Fancy Red diamond in the world. It is a 5.11-carat, trillion-cut owned by Moussaieff Jewellers, Ltd. of London; it was uncovered in Brazil in the 1990s. The original rough size was 13.90 carats (most large, show-stopping uncolored diamonds are over 600 carats). The diamond is a deep red in the center, and a lighter red on the outside.
The Moussaieff Red Diamond was exhibited in the U.S. in 2003 at the Smithsonian Museum as part of the "Splendor of Diamonds" show.
The Kazanjian Red Diamond
The 5-carat, square-cut Kazanjian Red Diamond was unearthed in South Africa in 1927 and was hidden from the Nazis in a salt mine in Holland during World War II and then found by American troops. The diamond was passed down to many owners such as Sir Ernest Oppenheimer and eventually made its way to the Kazanjian Brothers, which is a Los Angeles jewelry concern. In 2009, it was displayed at the Natural History Museum in Los Angeles.