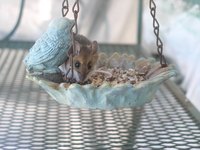 Allergens from mice can lead to childhood asthma attacks, problems on the job for lab and pet store workers and difficulties with pets. People with routine exposure to mice can develop allergies, even though they have never had them before.
Symptoms
Mouse allergies usually manifest as respiratory symptoms. These may include trouble breathing, runny nose, sneezing and asthma attacks. Some people who are allergic to mice may also experience a rash or itchy area, especially if they have been in direct contact with a mouse. If you see red marks on your skin after handling your pet mouse, this could be a mild allergic reaction.
Function
Mice produce allergens through several different vectors, including dander, saliva, droppings and urine. All of these are simply ways that proteins from the animal can come into contact with an allergic person. Contrary to popular belief, hair itself does not produce any allergens, though dander and saliva stuck to mouse hair may cause a reaction. In allergic people, the immune system is sensitized to these proteins and reacts when they enter the body.
Misconceptions
The proteins that cause allergies are unique for each animal. This means that people who are allergic to mice are not usually allergic to rats, guinea pigs, hamsters or other rodents automatically. While allergy sufferers are more likely to develop new allergies over time, the allergy to each animal is unique. Mice do not produce the same kind of allergen as any other rodent.
Considerations
According to Duke University, about 15 percent of the human population is allergic to some animal, but for animal care providers that number rises to as high as 40 percent. Pet owners and people who work with mice in laboratory or pet store environments have an increased risk of developing an allergy to the animals. The majority of animal handlers do not develop allergies, but it remains a significant risk.
Warning
Mouse infestations in the home present a health risk to young children, especially those who already have allergies and asthma. Mouse allergies can contribute to asthma attacks. In a Johns Hopkins University test of almost 500 asthmatic children in homes that contained mouse allergens, one-fifth were sensitive to mice. Mouse allergens do not seem to increase the severity of asthma attacks, but it is a concern for parents of children with asthma.