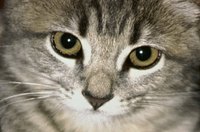 If your cat has an eye infection, your veterinarian might prescribe the topical ointment Terramycin to combat it. Oxytetracycline, the formal name of this antibiotic, is also available in a liquid formulation used in cats and dogs for other types of infections.
Terramycin Ointment
Terramycin, or oxytetracycline hydrochloride, is a broad spectrum antibiotic effective against either gram-positive or gram-negative bacteria. Polymyxin B sulfate, included in the ointment, has some efficacy as an anti-fungal. Terramycin does not contain steroids. Veterinarians commonly prescribe this yellow ointment for treatment of feline conjunctivitis, bacterial inflammation, corneal ulcers, blepharitis and keratitis. For these purposes, Terramycin is usually applied to the affected eye several times daily, although your vet will instruct you on the application frequency for your cat.
Oxytetracycline for Cats
Related to other drugs in the tetracycline class, such as doxycycline, oxytetracycline is available in either capsule or injectable form. Your vet might prescribe it for a cat diagnosed with a sinus or respiratory infection, mouth infection, an infected wound, pneumonia or a blood cell infection. While doxcycline is generally the first choice for treatment of hemobartonellosis, better known as feline infectious anemia, oxytetracycline can fight this disease as well. Cats with protozoal infections also might receive oxytetracycline.
Side Effects
The topical ointment form of this medication has few side effects though some animals might experience an allergic reaction. If your cat's eye swells up or he starts scratching at the eye, call your vet and discontinue the medication. Long-term use of the product can result in the growth of certain resistant bacteria. If your cat is receiving oxytetracycline, side effects include gastrointestinal issues and appetite loss. However, these effects generally occur only in felines receiving high doses of the drug. Cats receiving high doses can suffer from kidney ailments.
Precautions and Contraindications
Pregnant cats should not receive oxytetracycline. It should not be given to kittens whose adult teeth have not yet come in, as it can cause discoloration in permanent teeth. Cats receiving antacids should not take oxytetracycline.
Terramycin Availability
Manufactured by Zoetis, Terramycin was unavailable for approximately two years, from 2012 to 2014. Zoetis cited supply issues as the reason for the delay, which was originally expected to last only several months.