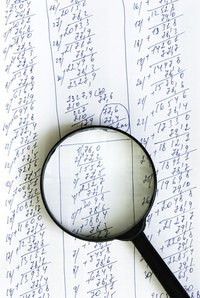 In accounting, the money coming into the business must match the money going out of the business. This doesn't always happen. Sometimes, prepayments, deposits or similar arrangements cause funds to enter the business without a matching account. Other funds have no category, like earnest money. For these funds, the suspense account was created. It is the holding account for any business funds awaiting a permanent place in the ledger.
Significance
Suspense accounts are not permanent accounts. They are like a temporary title for money that lacks one. Once the money is given a permanent title, it is moved out of the suspense account and into the proper ledger account.
Accounting for Errors
Suspense accounts are also used to hold the trial balances until the bookkeeper finishes recording transactions. If errors are found, then they are added to or taken from the suspense account number. When the bookkeeper finishes, the proper accounts are debited or credited until the suspense account balance is zero.
Institutional Uses
Brokers use suspense accounts to hold an account holder's money until it will be invested. This account holds payments that were made in advance until there is enough to invest. It also holds the cash dividends that were reinvested but not yet reported. Banks use the suspense account to hold balances while the accounts are being reconciled.
Fraud
Suspense accounts must be cleared at the end of the fiscal period. Leaving balances in the suspense account means that they are not on the balance sheet. Items that aren't on the balance sheet aren't reported to higher institutions (like the IRS and SEC) or to shareholders and business partners. Suspense accounts can thus be used to hide debts or embezzle funds.
Misconceptions
Suspense accounts are temporary and should not have a permanent place on the books. In most industries outside of banking, you should only use suspense accounts for the rare transaction that has no permanent placement.