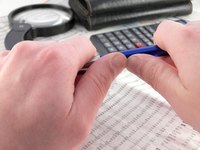 Information technology is advancing rapidly and has already changed the way many companies do business. With new computers and mobile devices offering a higher level of communication, businesses are improving their marketing and networking skills, staying in touch with the competition and their own customers, and making improvements in the way they conduct research and development.
Accessibility
Information technology has made methods of communication faster and more efficient, a key component to any successful business. With even more recent inventions like tablet computers and mobile devices being incorporated into the workplace, the level of connectivity in many companies has risen dramatically. By increasing both the frequency and the speed in which they communicate with customers thanks to information technology, businesses have become more accessible and available.
Application
Companies began applying advancements in information technology years ago by creating websites, increasing world-wide awareness of their existence and attracting new customers. Today, many businesses are also harnessing the power of social networking tools like LinkedIn, Facebook and Twitter, which helps them share the latest company news and reach out to their clients directly. Because these tools are interactive, businesses can use the instant feedback they receive as a way of speeding up research, helping them to develop and grow their business faster.
Benefits
The aforementioned speed in research and development is vital in staying on top of the competition in the business world. Information technology provides companies with immediacy on every level, keeping employers in touch with contact across the ocean as quickly as if they were in the next room. This level of connectivity helps create a more equal opportunity both for employers to find their ideal job and for smaller businesses to have the same advantages and access to customers as big businesses.
Potential
Information technology is constantly advancing, and the business world continues to change with it. With employees equipped with PDAs, employers conducting video conferences with peers around the world and a wider array of new multi-media applications and software improving the effectiveness of products, all fields of business have the opportunity to become more transparent, accessible and truly helpful in providing their service.
Expert Insight
There are many ways of looking at information technology and how it has influenced the business world. A study conducted by the Center for Information Systems Research at the Massachusetts Institute of Technology suggests that there are three specific perspectives in which to see these changes, which include that of improving business, surpassing business competitors and deciding on joining a certain industry of business.