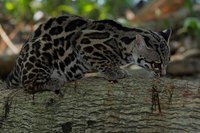 Panama is the landbridge between North and South America. This leads to a tremendous amount of diversity among the animal and plant species there. However, due to the deforestation of the last century and the building of the Panama Canal, there are many species that face extinction. Panama has a diverse amount of mammals, birds, amphibians, flowers and trees.
Mammals
Panama is home to a large variety of mammals. Many of the world's largest cats can be found in Panama, including ocelots, margays, jaguars and jaguarundis. The two-toed sloth considers Panama its home. The nine-band armadillo and Baird's tapir also can be found throughout Panama. Many monkeys, including several species of the spider monkey and the squirrel monkey, thrive in Panama's tropical forest.
Amphibians and Aquatic Animals
The phyllobates bicolor frog, more commonly known as a dart frog, has been used by the Panama natives for centuries to poison arrow tips. Its bright yellow skin warns off predators and contrasts with its tropical habitat. Panama also sees the pantropical spotted dolphin off its Gulf of Mexico shores and humpback whales off its Pacific coast.
Birds
The harpy eagle, Panama's national bird, is one of the world's most powerful hunters. Its wingspan can reach to an incredible 7 feet. There are over 50 species of hummingbirds and several macaw species. Panama tourists boast that they can see more of Guatemala's national bird, the colorful quetzal, than Guatemalans do.
Flowering Plants
Panama is home to over 1,000 different species of orchids, including the dracula orchid. Panama's national flower is the Flor del Espirito Santo orchid, better known as the Holy Ghost Orchid. More than 180 bromeliad species also grow in Panama.
Trees
Panama has about 1,200 species of trees. Among them is the Panama Tree, which can grow over 130 feet tall. Its leaves have been traditionally used to help insomnia. The historically revered Cieba tree and the blossoming Guayacan tree can make a hike through the Panamanian forest breathtaking.