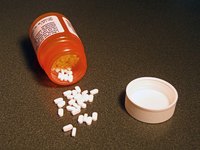 A diet drug that's commonly sold on the Internet, phentermine (phenyl-tertiary-butylamine) works as an appetite suppressant, bears similarities to amphetamines and falls under the classification of a controlled substance. Although approved by the Food and Drug Administration, phentermine is usually prescribed for individuals whose extreme weight poses a health risk. Medication is combined with weight loss programs that encompass behavior modification, exercise and changes in dietary habits. Brand names for Phentermine include: Adipex-P, Ionamin, Obenix, Fastin and Zantryl.
CNS (Central Nervous System) Effects
Similar to amphetamine, phentermine activates the nervous system. It is as if it causes an artificial rush of adrenaline, boosting the heart rate. It can lead to palpitations, anxiousness and sleeplessness. According to Professor Hamid Ghodse, former president of the United Nations' International Narcotics Control Board and chairman of addiction psychiatry at St George's Hospital in London, "Users also feel euphoric and have increased energy levels. However, this also leads to insomnia. Over time, sleep deprivation, coupled with weight loss caused by what basically amounts to starvation, can cause extreme changes in behavior. Users have hallucinations, mood swings, become anxious, paranoid and sometimes violent."
Other Side Effects
Headaches, dry mouth, blurred vision, peevishness, nausea, constipation, mood swings and changes in libido are other side effects of phentermine.
Dependency
Phentermine is normally prescribed for a short period of time—i.e., eight to 12 weeks—with strict instructions on dosage levels according to the individual's medical history and circumstances. Because it is habit-forming drug, long-term use can lead to addiction. In a 2006 report, the U.N. International Narcotics Control Board determined that phentermine as well as other amphetamine-type drugs are abused worldwide. Cautioning women on the hazards of diet drugs, Godse states, "They've been around in various guises since the Sixties and are highly addictive. Users can experience painful withdrawal symptoms, including nausea, headaches and convulsions, when they try to stop taking the drug."
Disease-related Issues
Cases of primary pulmonary hypertension (PPH), a rare and often fatal condition of the lungs, have been reported in patients taking a mixture of phentermine and dexfenfluramine or fenfluramine. As well, the development of valvular heart disease has been linked to the use of phenteramine, which is considered an anorexigen.
Stop-gap Measure
In many cases, the weight loss that results from the use of phentermine is temporary. Once patients are weened off of the drug, they tend to gain back the weight they have lost. According to endocrinologist Dr. Nicola Bridges, "Most people simply put the weight back on once they stop taking the drugs. These are extremely dangerous in the wrong hands. They have to be prescribed by a doctor who has carefully assessed the risk versus benefit for the patient."