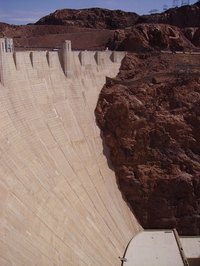 About 25 million people are served by the approximately 1,400-mile Colorado River, the source of which is primarily snow melt from the Rocky Mountains. Arizona, California, Colorado, Nevada, New Mexico, Utah and Wyoming as well as Mexico depend upon its waters. Though the river is tightly controlled, issues with water quality exist. In addition to a water supply, the river also generates hydroelectricity and is a popular recreational waterway.
Water Salinity
Though the Colorado River provides so many benefits to those that are served by it, its use in agriculture contributes to its water problems. The river makes farming possible by supplying water for irrigation, but irrigation sets up a scenario whereby salinity of the river water continues to increase. As surface water evaporates, salts naturally found in the water from runoff from soils and rocks become concentrated. Irrigation or precipitation returns the water to the river. High salinity levels could negatively impact plants and animals of the river system.
Urban Impacts
The Colorado River and its water supply make the area a desirable location. However, as populations increase, so to do the water problems associated with urban environments. Urban runoff introduces toxins from roads into the river and its tributaries, impacting water quality. Impervious surfaces such as sidewalks increase the speed of water flow in these areas in the event of storms. The result is an increase in soil erosion, which can cloud the river and impact micro-organisms that provide the food base for wildlife that depend upon the Colorado River.
Management
Management of the Colorado River and its water problems is complicated by the fact that several states are stakeholders. Since it flows into Mexico, it is also considered international waters. Management decisions, therefore, are complicated by the different interests of those involved. As populations increase, the current treaty may require renegotiation.
Water Chemistry
The Colorado River shares a water problem that is common throughout the world. Agricultural runoff and industry discharge waters have increased the levels of phosphorus in its waters. While phosphorus is a naturally occurring chemical, unchecked increases can ultimately decrease the amount of dissolved oxygen available to plants and wildlife. A further complication is the rise in nitrate levels caused by dying plants and animals. Costs for treating drinking water supplies will also increase.
Uncertain Future
The future of the Colorado River remains uncertain because of the possible impacts of global warming. According to a report by the Colorado River Water Conservation District, stream flow may decline by up to 18 percent due to evaporation from a rise in the Earth's surface temperature. Decreased stream flow will exacerbate other water problems. Another complicating factor is the Hoover Dam and its impacts, which also increase the impact of soil erosion, water quality, and other issues by altering stream flow.