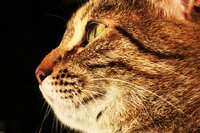 Cats often develop allergies and intolerances to the most common ingredients in commercial pet food. These allergies often result in itching, rashes and excessive grooming, as well as digestive problems. Conventional treatments for cat food allergies–primarily steroids–have dangerous side effects. Because of these side effects, many cat owners choose to treat their cats' food intolerance with diet, instead of medication.
Causes
The main culprits in cat food allergies are corn, wheat, chicken, beef, dairy products and fish. These ingredients are all very common in commercial cat food, and over exposure is usually responsible for the allergic reaction. Cats can develop allergies to other foods if constantly exposed to them. This process is responsible for many "allergy" diets based on lamb and rice actually causing reactions, instead of suppressing them. Lamb and rice have become common enough to cause a reaction.
Effects
Food allergies cause discomfort and improper digestion in cats that suffer from them. A cat with allergies may have unexplained rashes around the ears and face, itchy, red ears, or lick their paws and legs frequently. In addition to skin discomfort, allergic cats may also vomit or suffer from diarrhea. Both sets of symptoms are similar to other disorders, so the cat may need an allergy test or trial diet to diagnose the allergy.
Prevention/Solution
A cat suspected of allergies should have a diet composed of food sources the cat has never eaten before, or hydrolyzed protein cat foods, in which the carbohydrates and proteins have been broken down into forms that won't trigger an allergic reaction. Cats eating allergy treatment foods should not receive flavored toothpastes or toys, animal-based chews, treats, or flavored medications. They should also have their own litter box.
Considerations
Dry food is very convenient for owners, since you can leave it out for longer periods than wet foods. Dry foods have higher percentages of grain ingredients than wet cat food, though. If your cat develops a sensitivity to grain foods, it may be difficult to find a good dry cat food that won't cause an allergic reaction. Look for specialty foods that include new carbohydrates like barley, potatoes and green peas.
Warning
Determining the source of your cat's allergy can take a long time. Don't simply buy a food that claims to be hypoallergenic before you learn what proteins your cat is sensitive to. Have your vet perform a blood test, or put your cat on an elimination diet to find out what the problem food is, then choose a new dry cat food based on the results. It may take patience, but the result will be a healthier pet.