Treadle sewing machines are traditionally identifiable by their distinctive human-powered pedal mechanism. Instead of a standard electrical pedal, the old treadle machines had a foot-operated platform (called a treadle) located near the floor. The platform is often made of cast iron and rests between the iron supports under the sewing machine.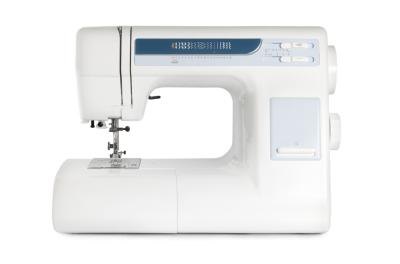 (Givaga/iStock/Getty Images)
Several people are credited with the invention of the treadle-style machine, but Isaac Singer was at the forefront of production and marketing in 1851 with the rigid-arm treadle machine. This type of sewing machine was a break-through in sewing technology because it freed the user's hands to better control the fabric. Previous to the invention of the treadle, models featured a hand-crank that powered the needle.
Denise McQuillen/iStock/Getty Images
The Singer company and the White company were the primary makers of treadle sewing machines in the early to mid-1900s. White machines are less commonly found today than the Singer models, as Singer was a more aggressive company at the time. The National Sewing Company made many machines with different brand names, as did other companies including New Home, Davis, Standard, Free and Mason.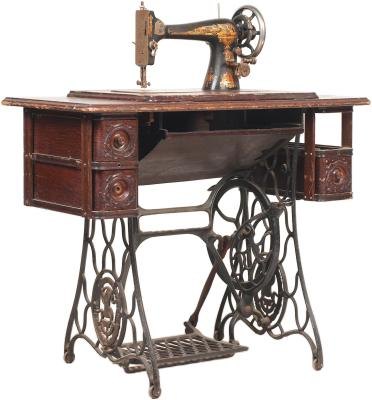 Hemera Technologies/Photos.com/Getty Images
Janome makes a new version of the treadle machine, a non-electric, foot-powered model that is sold separately from the treadle cabinetry. A few non-name-brand new treadle machines are available on the Internet and can be found using any search engine.
Denise McQuillen/iStock/Getty Images
Singer machines are a safer bet if you are looking to actually use the machine, because more Singer parts are currently available than parts for other brands. Some machines come with a cabinet, but not all brands of cabinets will be interchangeable with machines.
Melissa King/iStock/Getty Images
A quality, sewing-grade oil is required to maintain treadle sewing machines. Regular oiling of every place where moving parts rub together will keep the machine ready for use.
NinaKoba/iStock/Getty Images
Promoted By Zergnet