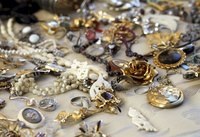 Ciro Jewelry, of London, England, and New York, makes moderately priced women's costume jewelry, specializing in quality imitation pearls and cubic zirconia. Deeming itself "affordably extravagant," the company has been around since 1917. Just in time for the roaring '20s, Ciro's early days were driven by movie stars and the flappers who emulated them by wearing costume pieces instead of real gems.
What's Old Is New: Vintage Looks, Pristine Sparkle
After wooing flappers with imitation pearls, Ciro found a new market in the 1970s with cubic zirconia -- imitation diamonds that sparkled nearly like the real thing. Collectors of costume jewelry can find Ciro in art-deco styles, 1950s brooches and signed pieces by designer Marcel Boucher. Recent designs include retro-inspired crystal-set pins shaped like kittens, dachsunds, scotties or owls, and pearl sets from simple to ornate, including bridal sets. Ciro's website says it caters to those without pierced ears with its extensive selection of clip-ons.