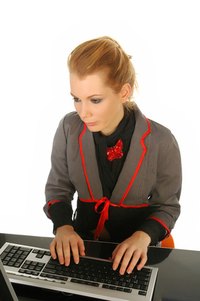 Discipline and termination may be two of the most important actions taken by a company. If either is administered incorrectly (wrongful accusations) or illegally (discrimination), the company may be facing lawsuits. In addition to possible legal issues, the treatment of an employee leaving the company or whose performance is substandard may affect the attitudes and morale of other employees. Therefore, companies may establish policies that address the discipline process and the proper way to terminate an employee.
Communicating the Discipline Policy
Companies develop rules and regulations, or policies, regarding employee behavior at work to provide information to all workers regarding employer expectations and the penalties for policy violations. Some companies develop progressive penalties--ranges of discipline from verbal warnings to ultimate termination--and provide these policies in the form of an employee handbook or manual. Have the employee sign a form that the information has been received and discussed.
Clarity and Fairness in Discipline
Companies may make special efforts to ensure the policies are fair to all employees. It's important to inform the employee ahead of time about all policies and to communicate any new policies. The policies must be clearly defined and written in understandable language. For example, "Our company prohibits the use of alcohol and drugs during working hours and violation of that policy may result in disciplinary action up to and including termination." These policies should be enforced for all employees, including supervisors, managers and senior management.
Termination Policies
Because wrongful terminations (dismissed due to discrimination, lack of company investigation into the issue or a perceived lack of fairness) can cost companies money in lawsuits and court costs, a clearly defined termination policy are important. Termination policies should outline investigative processes, reasons for termination (insubordination, drug or alcohol use on the job, sexual harassment, poor performance, and excessive attendance and tardiness behaviors) and what levels of penalties are associated with each reason. If certain behaviors are immediate grounds for termination, these behaviors need to be clearly defined.
Terminating Safety Measures
A termination policy may include security measures to protect all employees. Terminations should occur in private areas away from other employees and be conducted by a manager and a representative from human resources (the department that manages employee issues). Some larger companies may have a security officer escort the employee out of the building. All keys, computer access and other company property should be obtained at the time of termination.
Exit Interviews
Some companies may have the human resources department conduct exit interviews with employees who leave voluntarily. The reason for exit interviews is to gain information about reasons for departure and ideas for improvement in certain areas, such as supervisor leadership style, fairness of work load, salary or benefits issues. One concern for exit interviews may be the accuracy of the information gathered. For example, an employee may say that the termination is due to salary when there is really a conflict in the department.